I just received my tote... MY GOODNESS it is even more gorgeous in real life! THANKYOU for creating such stunning pieces!
Nadia
The bag really is amazing, quality, size, features. I am using just the tote at the moment while we wait for baby and it has so many neat compartments. It's beautiful and worth the investment.
Christina
The best thing about the combo is the fact that the crossbody bag can detach to use as separate going out bag/handbag. It's the first time I've actually been able to pack just the one bag for a whole trip.
Chrissy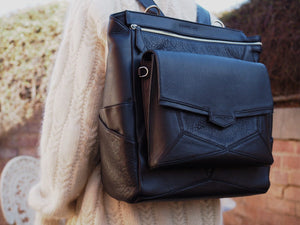 The Everything - Our Unique Leather Baby Backpack with Detachable Clutch
Crafted with women's dynamic lives front of mind our intuitively functional pieces are designed to suit many stages of life.  Our signature Tote and Backpack make the perfect nappy bag and will remain your go to bag well beyond the early years.  Designed for longevity, with the aim to become your treasured piece, to grow and adapt with your life and family.
Shop Now
Function Meets Style
Meticulously designed with underlying practicality, our bags ensure functionality is at their core. Each detail is deliberate and created with intent resulting in bags you will love to look at, and adore using.
About Toots
FOR THE EVERYDAY ADVENTURE
The women that moves from one aspect of her life to another in any one day, hour or minute and wants to do it seamlessly without the need to worry about the possessions she requires to bring along the way. 
Happy Customers