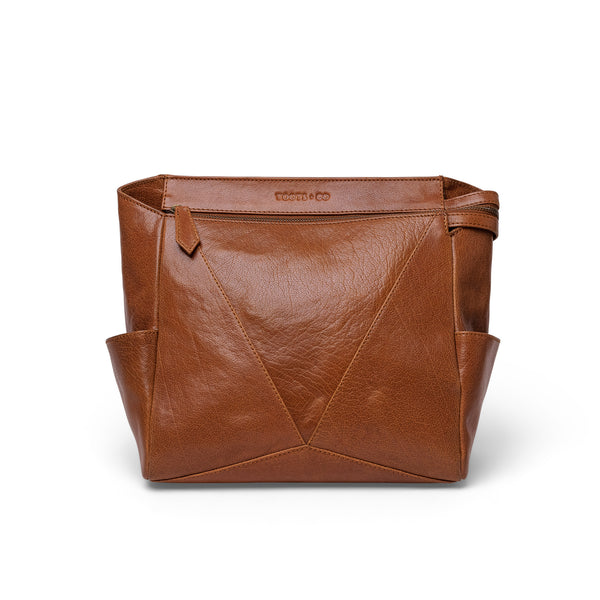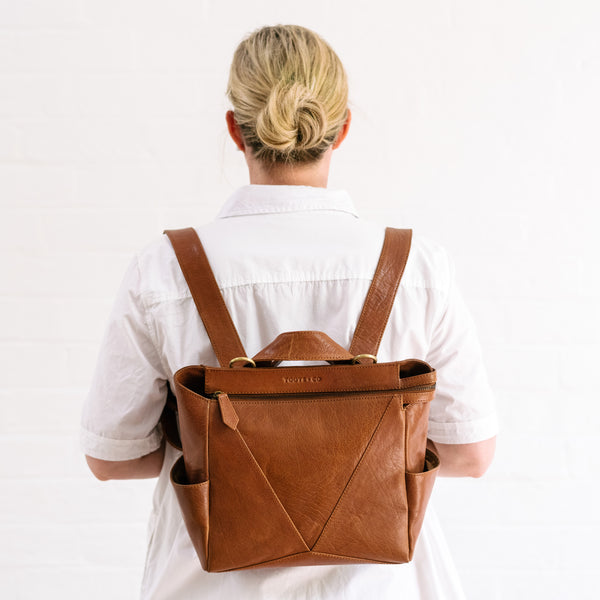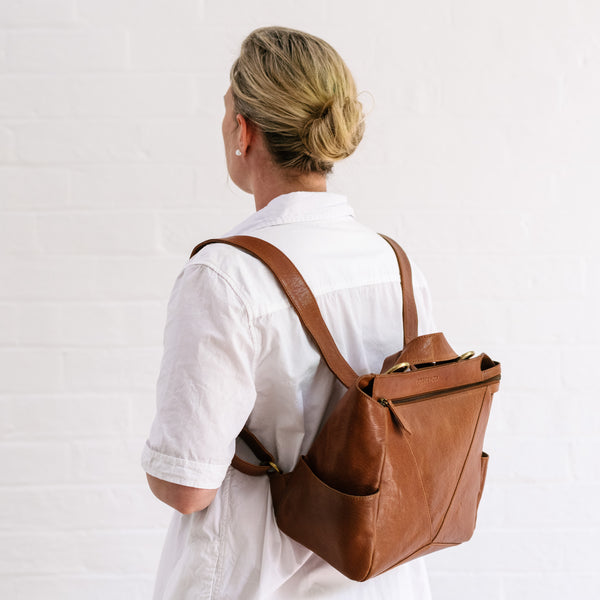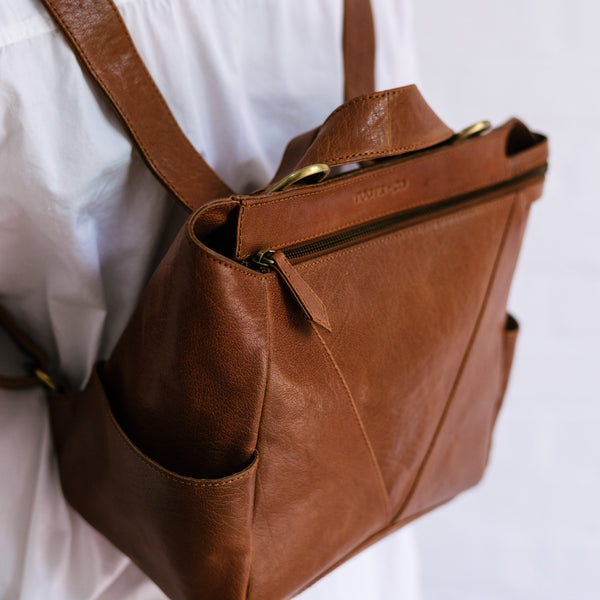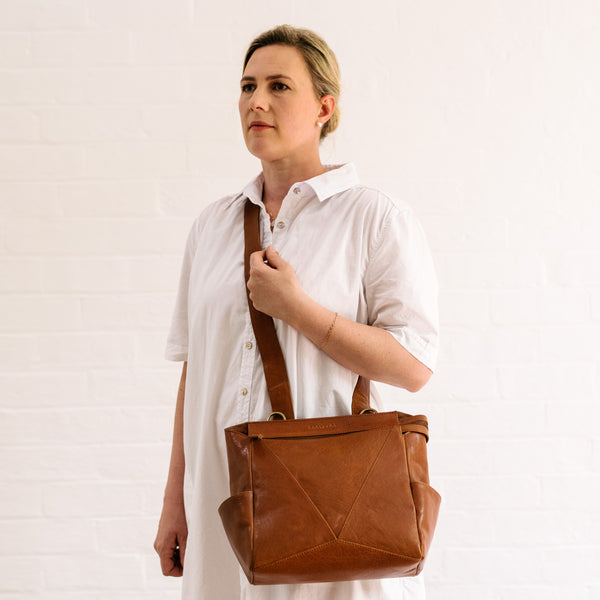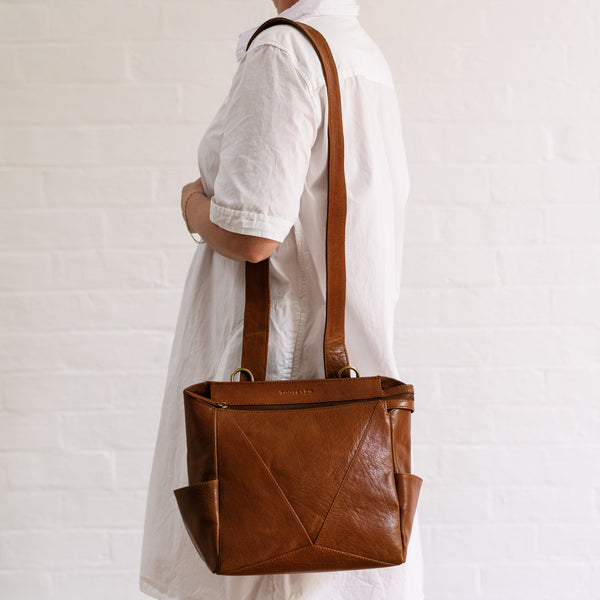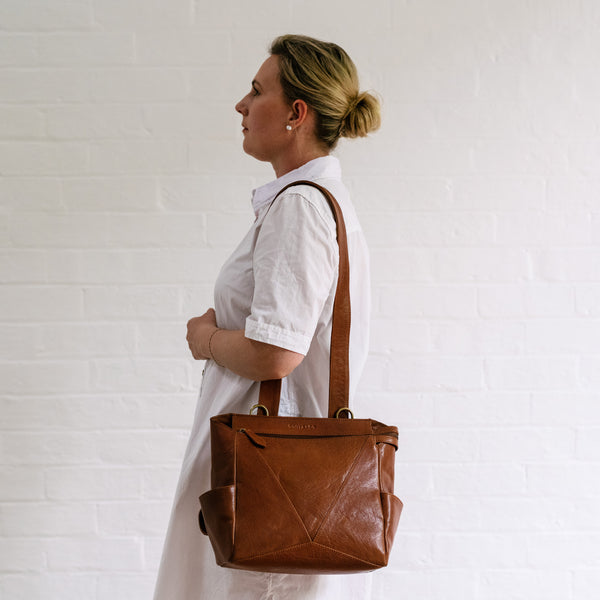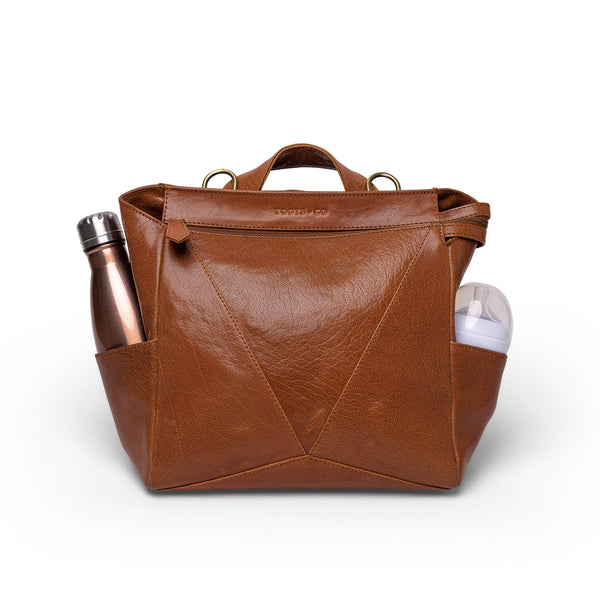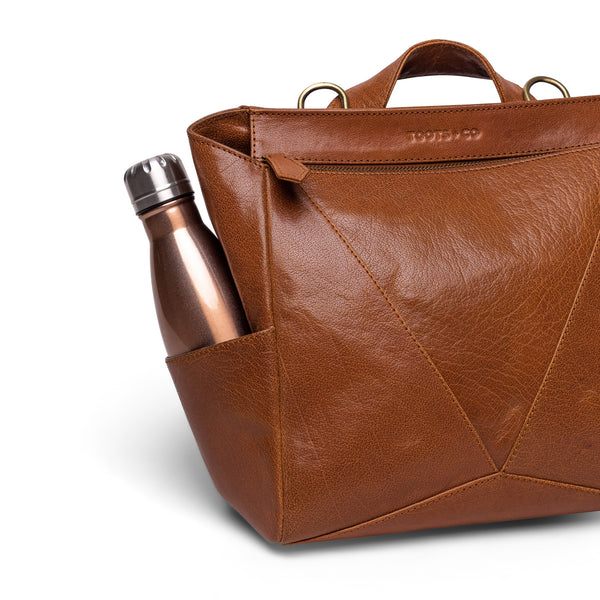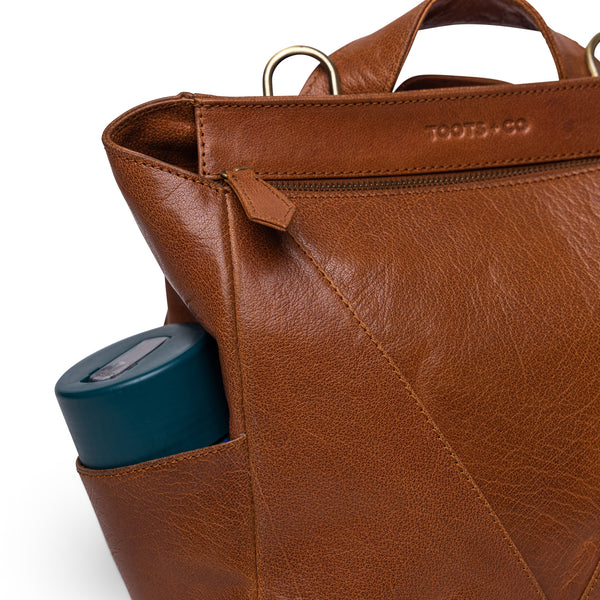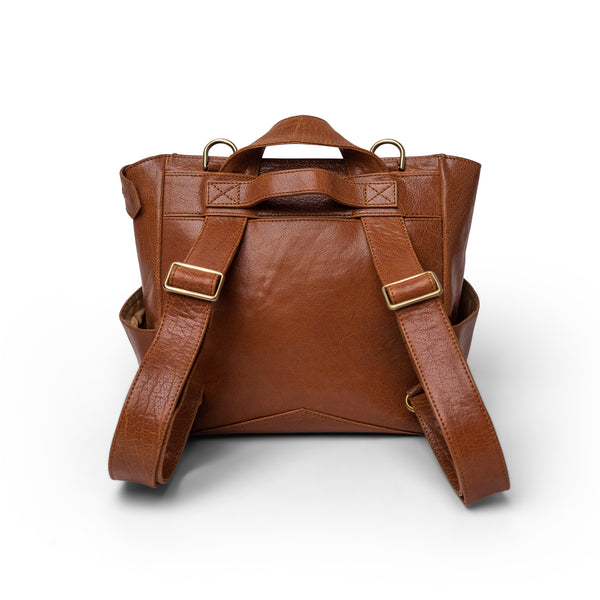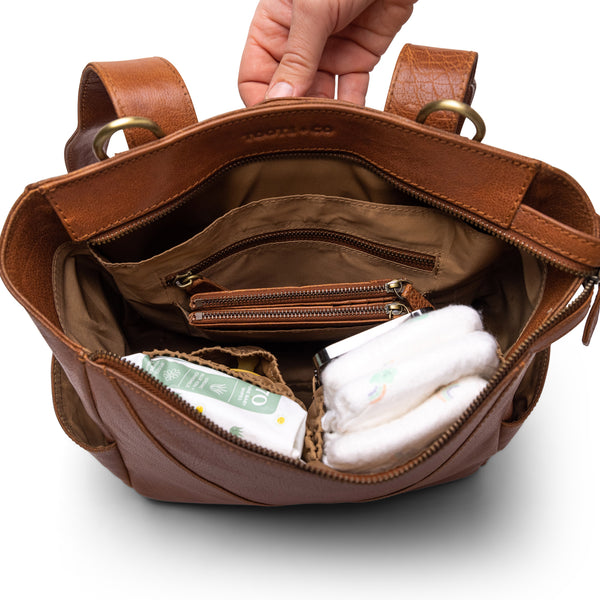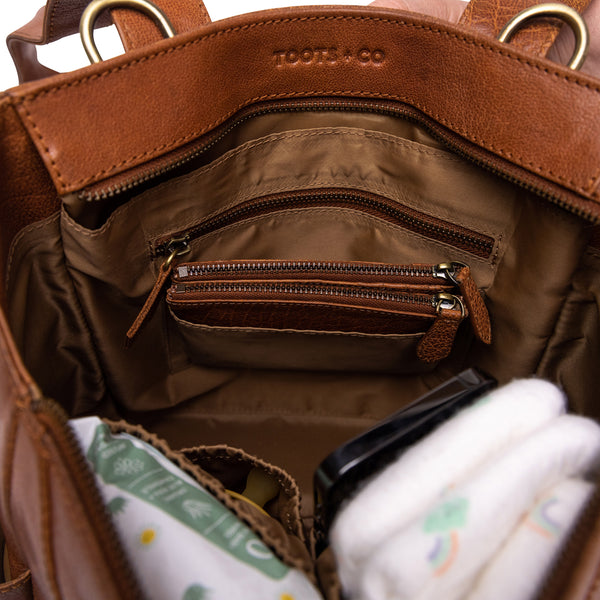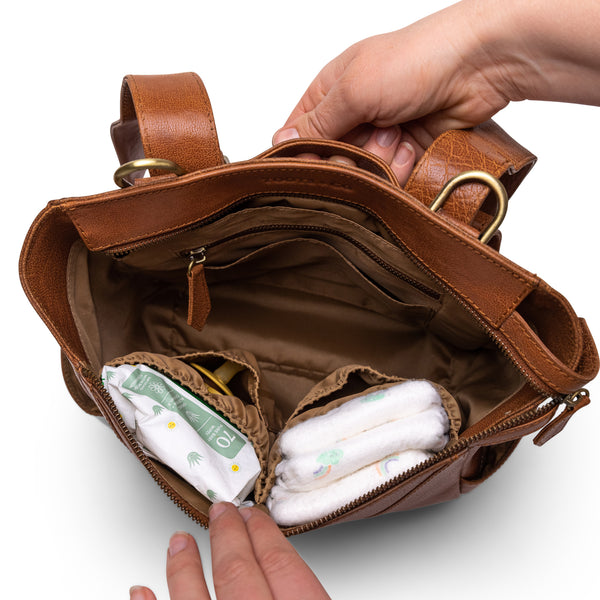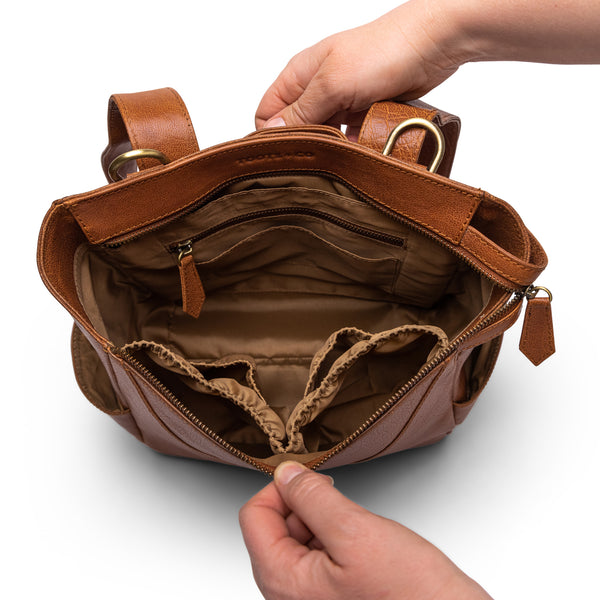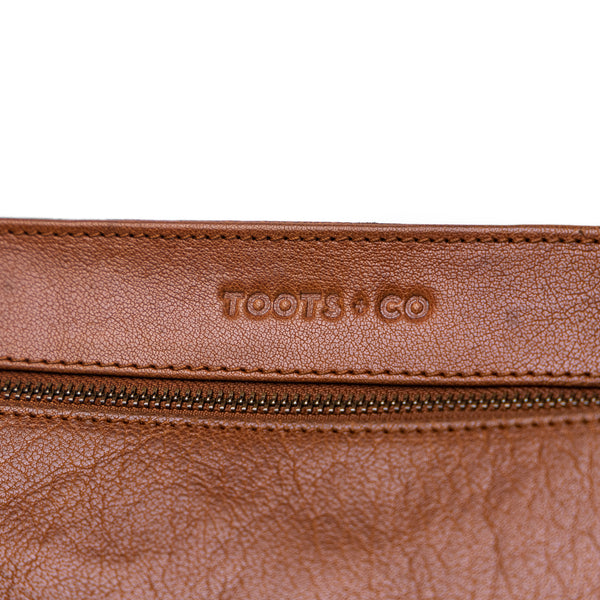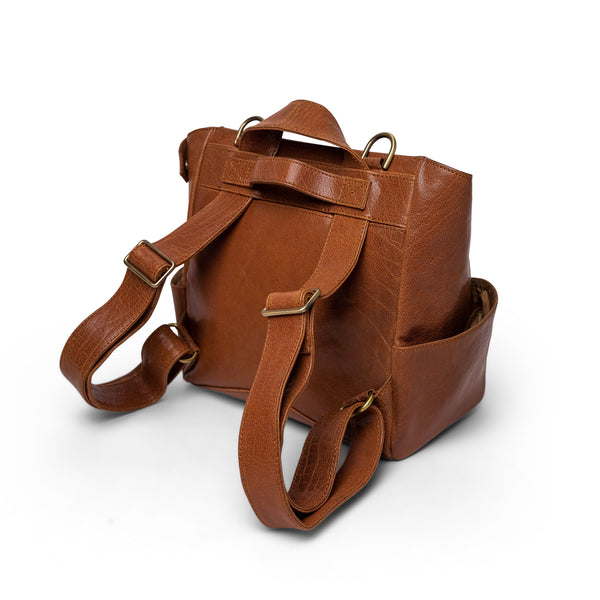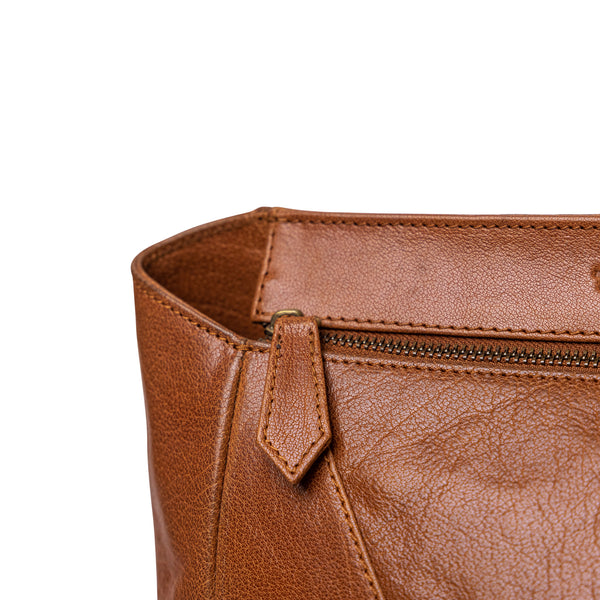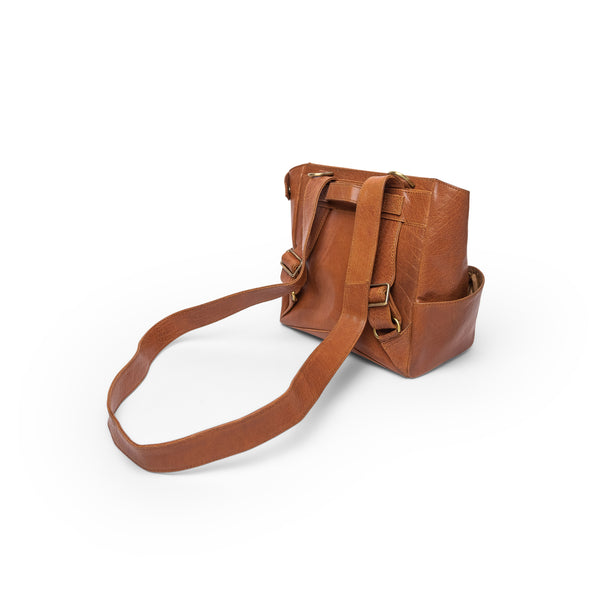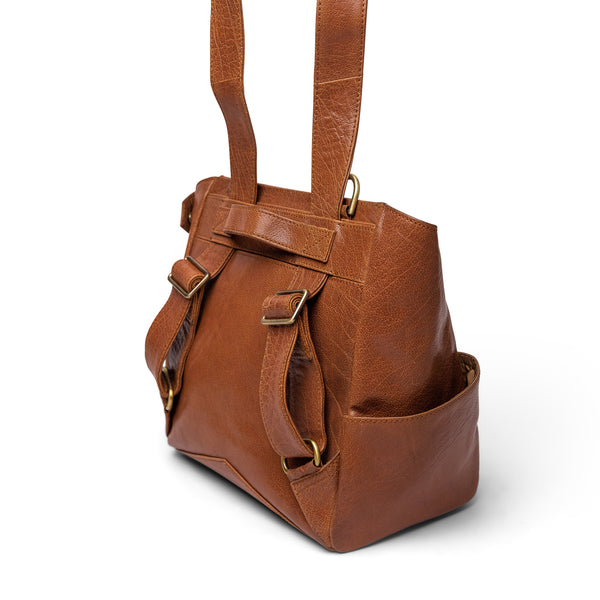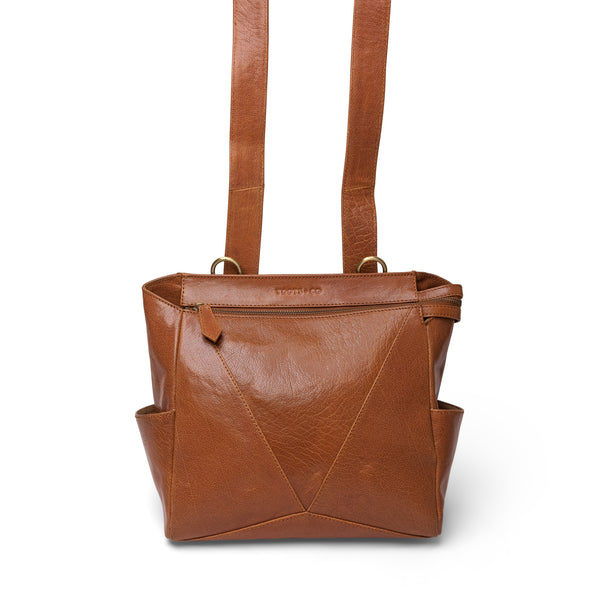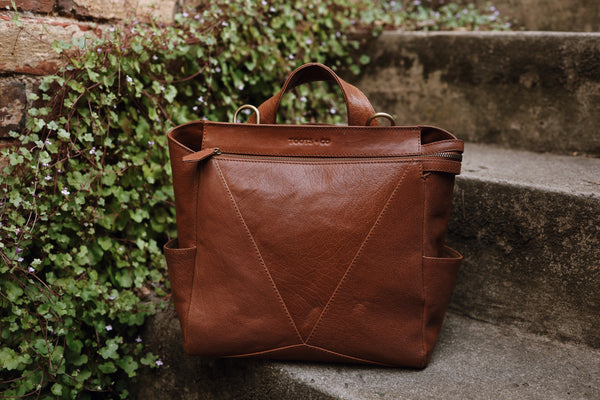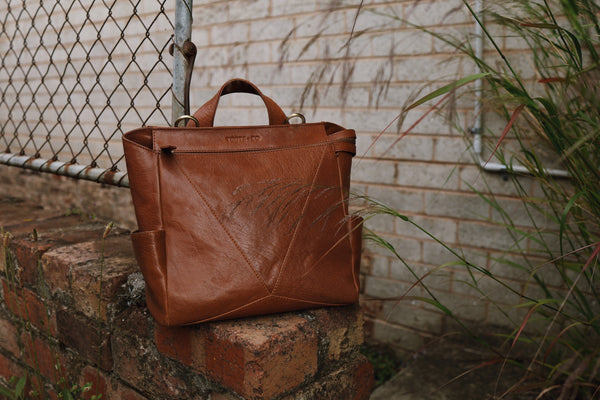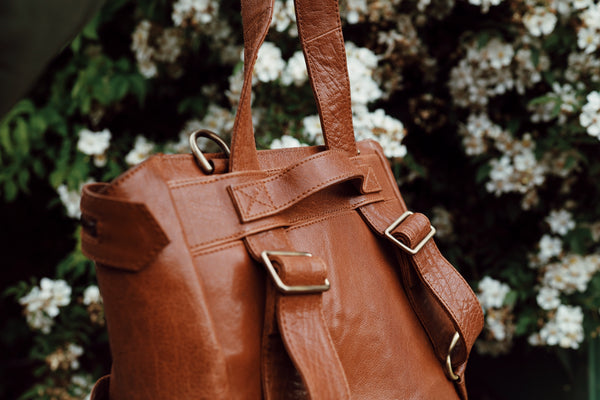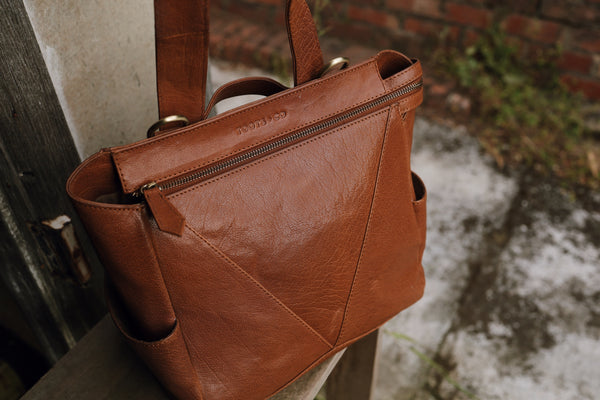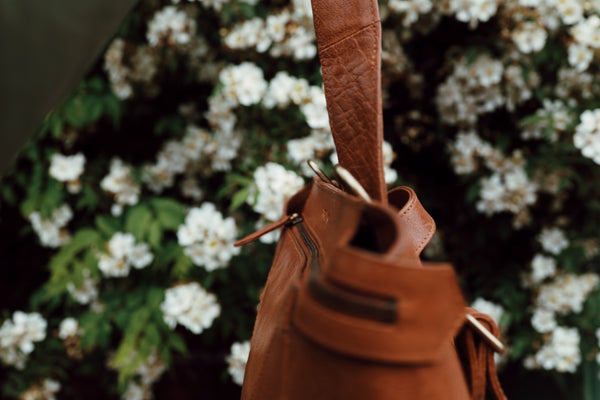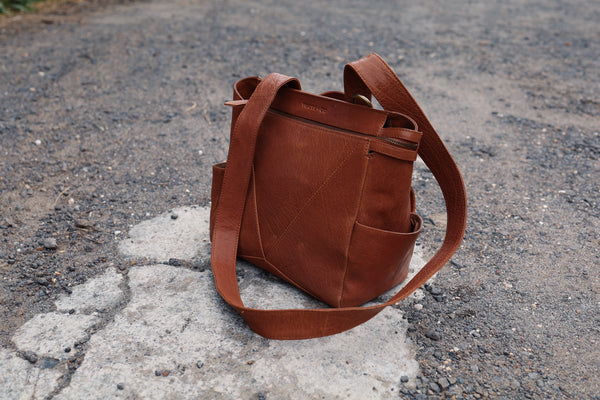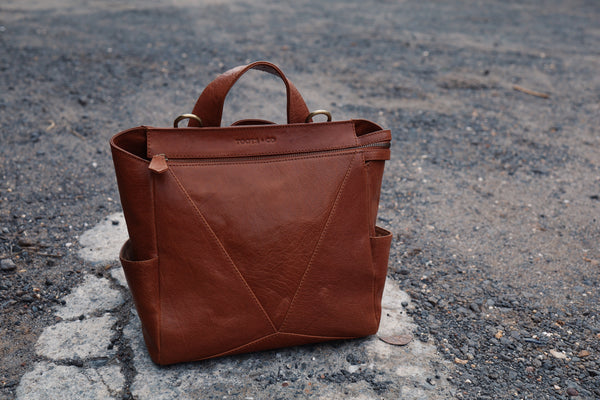 The Everything Mini 2.0 - Tan Leather
 A scaled down version of our popular Everything Backpack this bag is so versatile!  It's got a cult following and I'm so pleased to be releasing it for the first time in a full leather version.  
Especially as we have reworked the backpack straps to convert to a crossbody in seconds!  This makes it not only great as an everyday bag, but amazing for travel.
It's the perfect size to be your go-to everyday bag, either for someone with kids or without!
Internal pockets have been sized to fit wipes and nappies for use as a mini nappy bag - Toddler Mamas this bag was designed with YOU in mind!  You can look chic while hands free toddler wrangling! 
Total minimalist newborn mama?  I know how you people roll, I'm BFF's with one - this backpack would be perfect for you too!
It will fit - 3 nappies, wipes, drink bottle + baby bottle, baby onesie or pants/top for a toddler, hat, sunscreen, a couple of match box cars, muesli bars, dummy, phone, wallet and keys. 
Features:
- Soft flat handles for comfortable carrying
- Backpack straps can be tucked into the rear pocket to use included shoulder strap
- D rings to allow use with pram hooks
- Silver hardware
- Change mat included in wipe clean nylon
Pockets
- Two large elastic pockets perfect for wipes and nappies
- Two smaller elastic pockets perfect for nappies, nappy cream
- Large elastic pocket
- Slip pocket 
- Small zip pocket to secure valuables
- Two external slip pockets perfect drink bottles/bottles
You can also personalise your Nappy Bag with a monogrammed luggage tag - click here to see more
LEATHER
Bag outer - Semi Aniline, Semi Vegetable Tanned leather proudly sourced from a Leather Working Group Gold Rated Tannery.  The leathers are buffalo along with NZ sourced bubble sheep leather.  For more information about our leathers see here.
Anilines are often considered the finest of all leathers. They are soft, supple, warm to touch and are naturally beautiful. Being Full Grain they display natural markings including pores, wrinkles and even, minor scars.  Each piece of leather, and therefore bag is unique.  However, with minimal coatings on the surface, they are also vulnerable to stains.   This is not a fault of the leather, but an inherent characteristic of a quality leather, the leather may stain, darken and develop a patinas if exposed to body oils, creams, perfumes, and some foods.  However over time any stains will soften in appearance, especially if conditioned and your bag will soften, crease and take on it's own beautiful, unique appearance. 
The tan colourway has been treated with a sealing coat to minimise stains, however please note that stains will still occur.  You may wish to recoat your bag with a waterproofing spray periodically if you would prefer to minimise any markings. 
Leather naturally stretches; however, it will not contract again. To preserve the shape of your piece, please do not overfill it.
Bag inner lining - water resistant wipe clean nylon - not removable but can be lifted up from the bag inner for spot cleaning 
Brass hardware and zips 
SPECIFICATIONS AND SIZING
28cm high,  26cm wide, 16cm deep at base (approx). Weight 980 grams. 
SUSTAINABILITY
Leather is a natural, renewable material made from animal hides that have been preserved and softened through a tanning process. This leather is semi vegetable tanned.
This leather is sourced from a Leather Working Group (LWG) audited and rated tannery. LWG aims to improve the environmental impact of the leather industry by assessing and certifying leather manufacturers. The audit covers energy use, waste, water use and chemicals, as well as traceability.  We are please to be including LWG leathers in our collections.

We have selected a durable buffalo leather for longevity, it ages well and is easy to care for. Unlike synthetic materials leather will develop a patina and just gets better with age. Leather can be recycled or upcycled, and once it reaches the end of its lifecycle it is biodegradable
Our bags are made in small batches to ensure no excess product and waste to landfill.  They are made from quality leathers and thoughtfully designed to ensure you can 'buy less. buy better' and use your bag for many years across multiple iterations of your life phases.
Shipping, Returns and Warranty
Delivery 
Orders are usually dispatched within 5 business days, often less.  If you need it urgently please reach out and we will do our best to get it out quicker.
Currently all Australian orders over $49 ship for free.

For international shipping rate and more detailed shipping information please click here.
Warranty
We warranty bags and accessories for 12 months for products used under normal conditions and for the purpose intended. It doesn't apply to normal wear and tear, misuse or accidents.  Failure to follow the guidelines on our warranty would be considered misuse.
We stand behind our apparel products with a 120 day guarantee of our workmanship and materials for more details click here
For detailed information about our warranty and leather care please click here.
Returns
We know that it can be daunting shopping online, and are happy to offer a return within 30 days of receiving your bag.  We offer a full refund, return postage is at customers expense.  Please note that around holidays such as Christmas and Mothers Day we are happy to provide extended returns to allow for gifting.  Just let us know when you order that it's a gift if you will need more than 30 days. 
For specific information about returns and exchanges please click here.
Yet another amazing bag
I have too many of these bags but why not when they are this amazing. The leather wears so well and the everything bag mini is perfect for days I want to go out without my big baby bag.
Thanks so much for your review Rebecca! It's so amazing to receive reviews like this from customers that have bought multiple pieces from us and love them. When our customers realisie that the quality and practicality is there and that it makes it worthwhile investing in the same brand again, it really shows me that all the careful design hours are worth it!
You will love this bag... it is the prefect size for the day to day essentials! I even carry this one sans kids!
Kindest, Emma
Stunning!
As a mumma of three almost out of the baby stage but still need a small bag for ALL the things- this is perfect! It is so luxe and well thought out and can be a backpack or a shoulder bag. Would absolutely recommend this bag to anyone. I have been searching for something like this for quite some time and it certainly ticks all my boxes :)
Great little bag
Very happy with this mini. I didn't want a traditional oversized nappy bag and couldn't find anywhere that had the functionality of a nappy bag.. but shrunk.. until I found toots.
Am enjoying the conversion from shoulder bag to backpack and I also bought the stroller clips, so can use it three ways.
It's also beautiful to look at.
Tan, but make it perfect
Oh. My. Heart.
I've become a bit of a Toots connoisseur, and while choosing my favourite Toots is like choosing my favourite child, I have to say it's my current favourite. (And while this review remains anonymous, I'll admit it's the baby - he's everyone's favourite).
It's post Covid and I'm FINALLY leaving the house - and it's got enough space for everything I need to feel prepared each day. I switch between backpack and shoulder mode - I love them both.
I can't even find the words to express how much I love the colour, so I'll just say it's perfect.
Buy it, you won't regret it. You'll only regret you didn't buy it earlier.
Eleventy billion stars. Would recommend.
Just perfect.
I'm not a mumma, but I am a T1D and I need a good bag to store supplies and snacks!
This bag is lightweight, beautiful and durable.
The tan is beautiful to the senses. The layout has been so well thought out, everything has its place and is secure inside the bag that nothing ends up rolling around. The extra pockets are great for those small items and fits a good drinker bottle. I love the stud button that clips the zip back out of the way, which helps to make it seamless - just those attention to details - you know it's its been designed well and just looks so fancy. The adjustable strap from bag to backpack is such a great addition. Just what you need.
My mum (50+) also has this one in black and really loves it and is a great size.