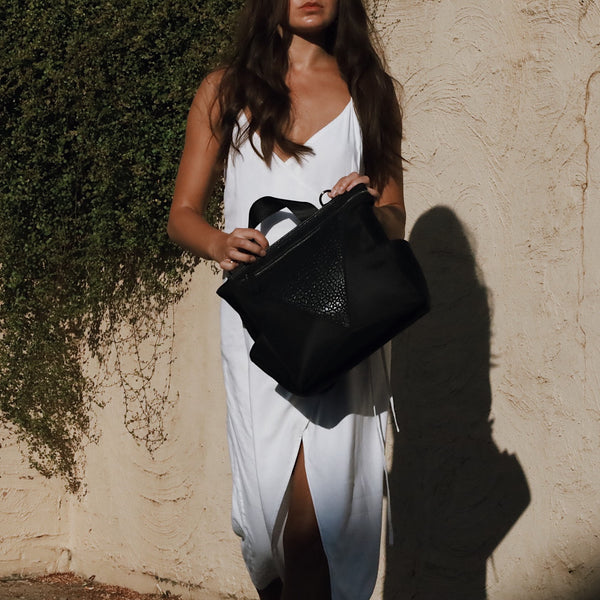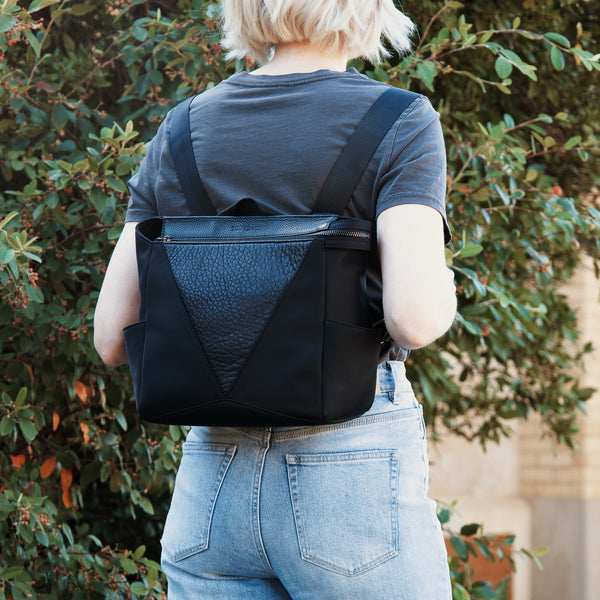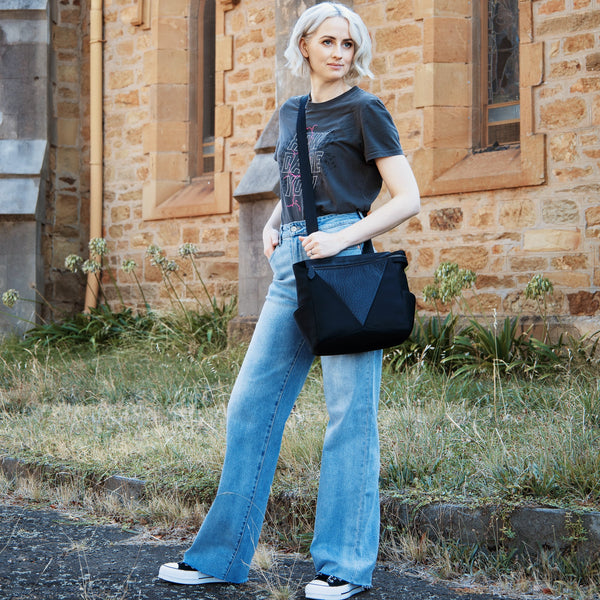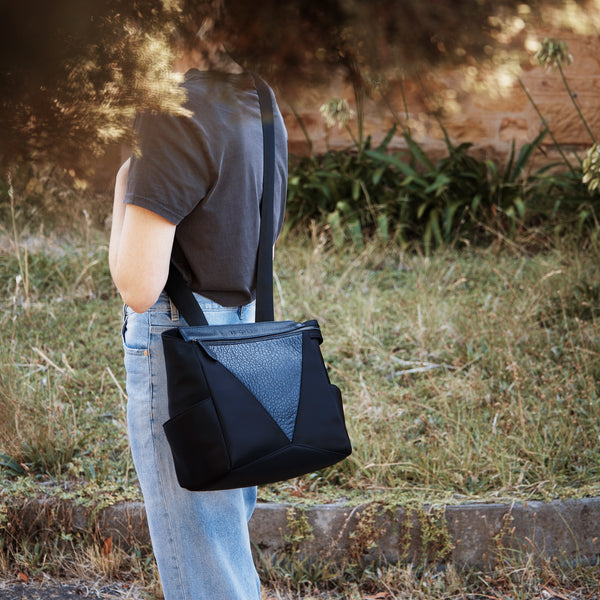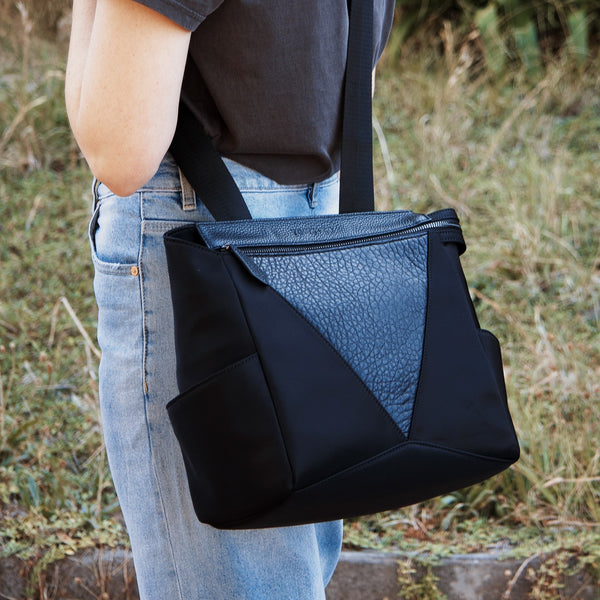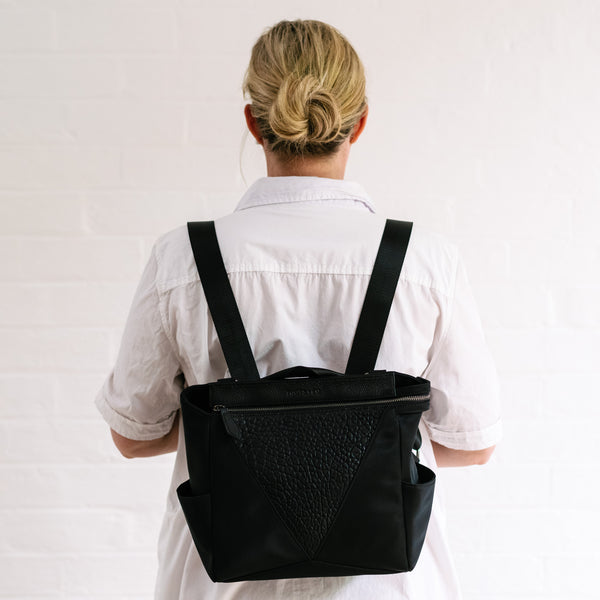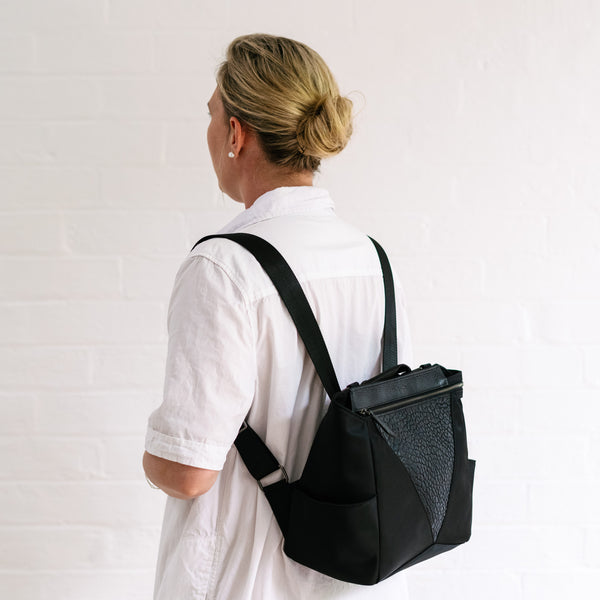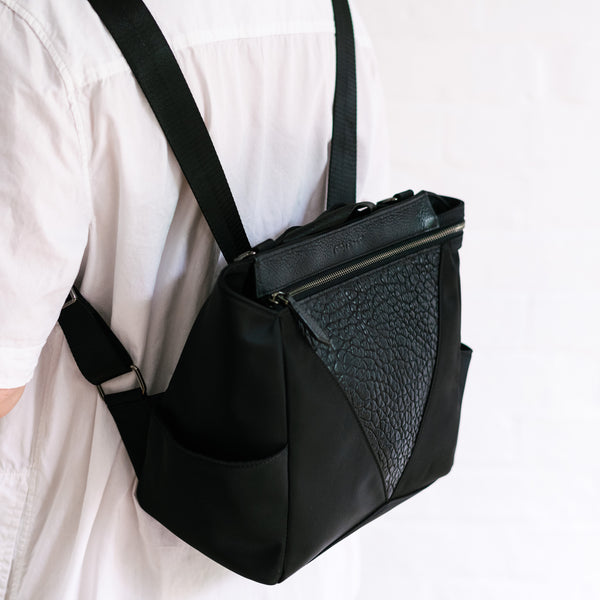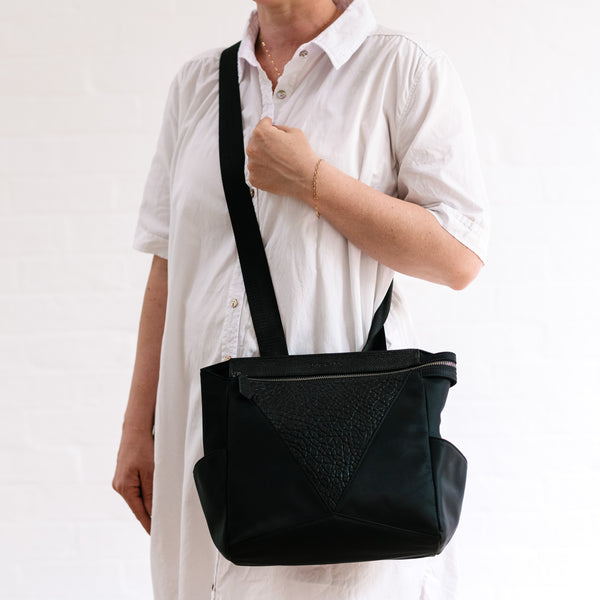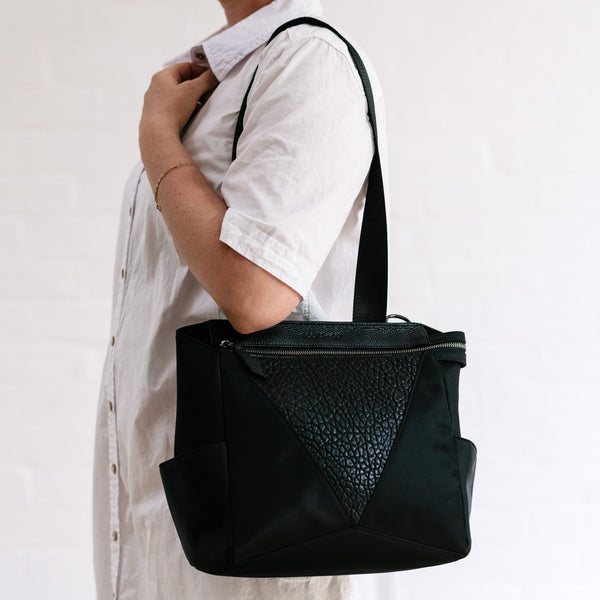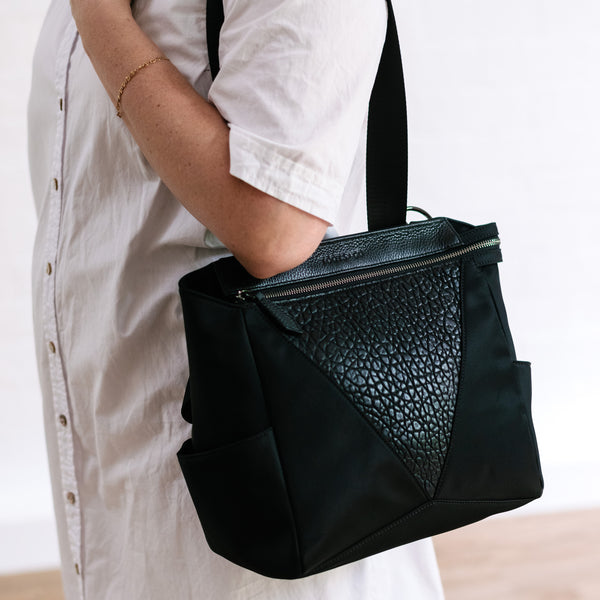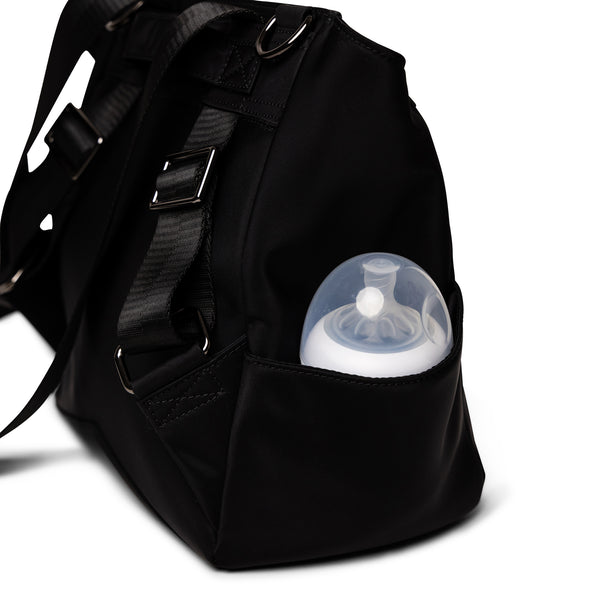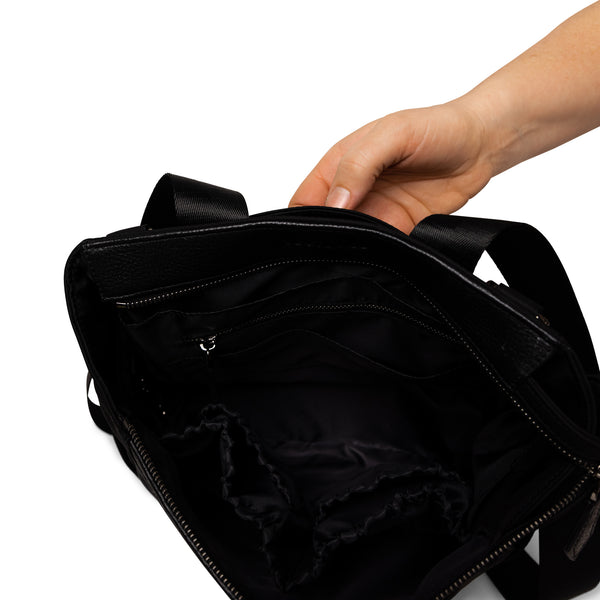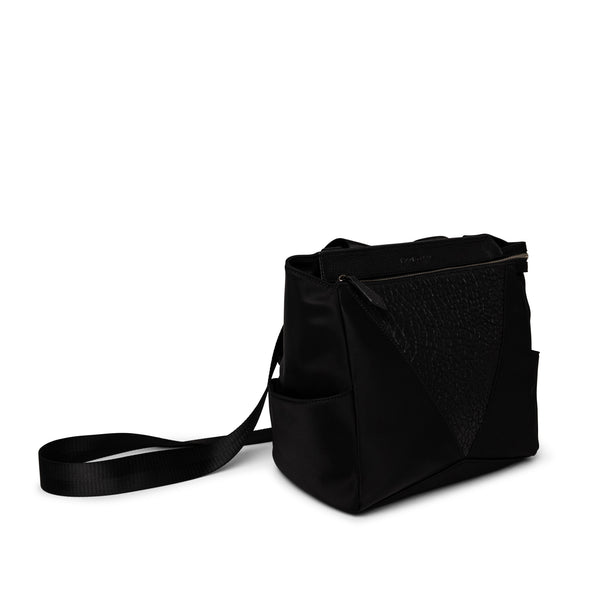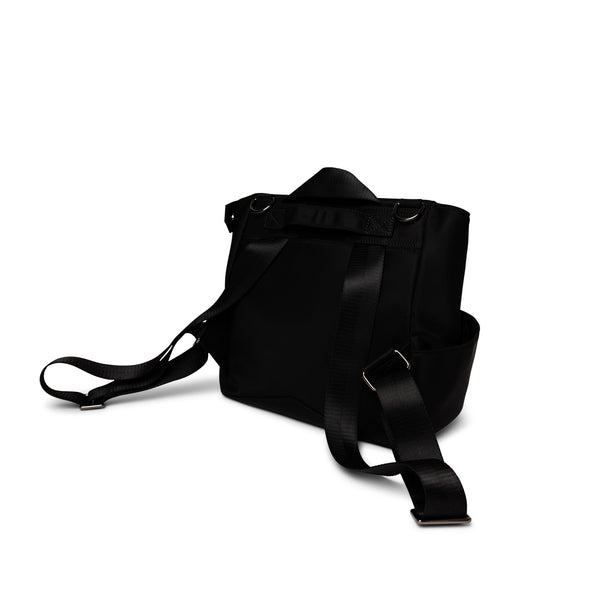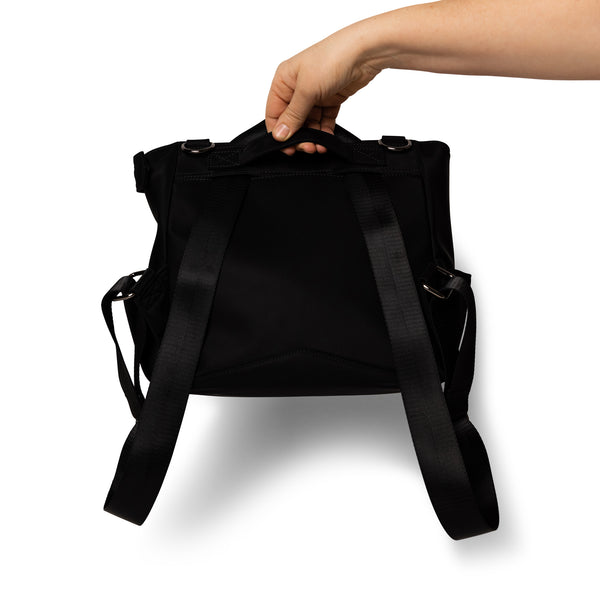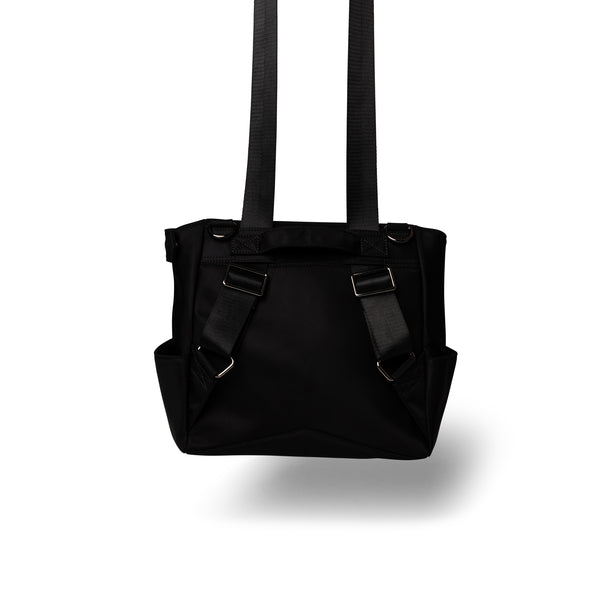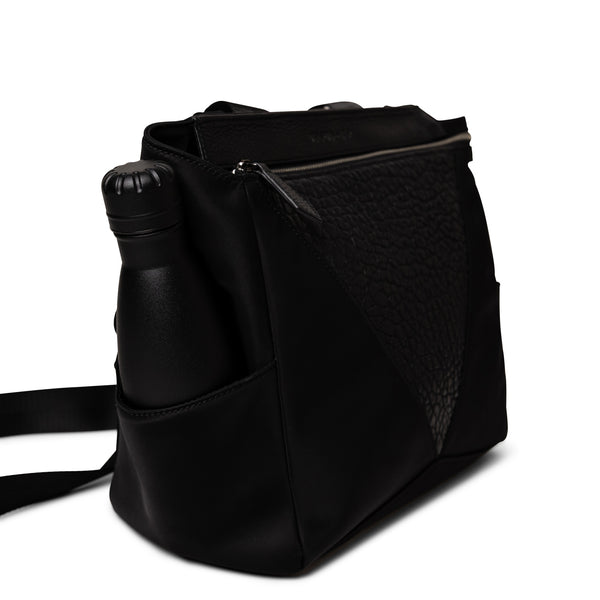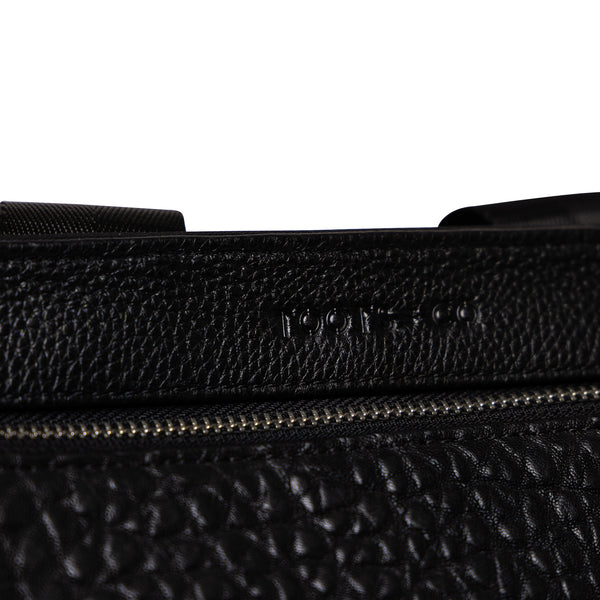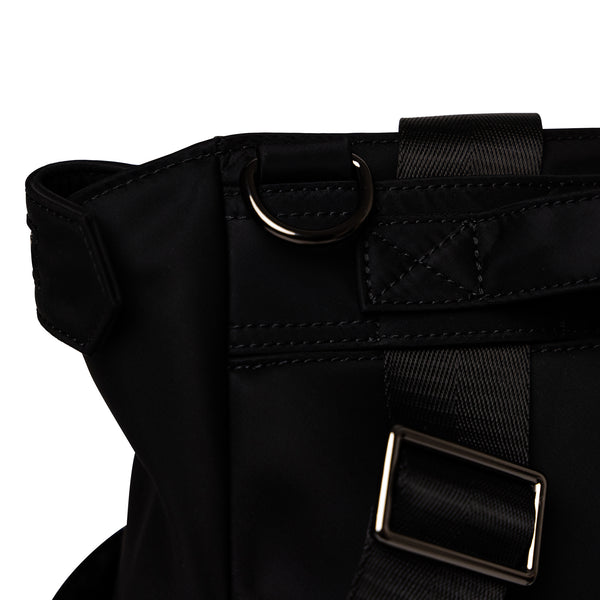 A scaled down version of our popular Everything Backpack this bag is so versatile!  Especially as our new convertible straps take it from backpack to crossbody in seconds!  This makes it not only great as an everyday bag, but amazing for travel.
It's the perfect size to be your go-to everyday bag, either for someone with kids or without!
Internal pockets have been sized to fit wipes and nappies for use as a mini nappy bag - Toddler Mamas this bag was designed with YOU in mind!  You can look chic while hands free toddler wrangling! 

Total minimalist newborn mama?  I know how you people roll, I'm BFF's with one - this backpack would be perfect for you too!
It will fit - 3 toddler nappies (5 newborn), wipes, drink bottle + baby bottle, baby onesies x 2 or pants/top for a toddler, hat, sunscreen, a couple of match box cars, muesli bars, dummy, phone, wallet and keys.   See our image for what fits for a newborn.
Features:
- Soft flat handles for comfortable carrying
- Convertible straps from backpack to crossbody in seconds
- D rings to allow use with pram hooks or attach keys or dummies
- Gunmetal hardware
- Optional change mat included in wipe clean material
POCKETS
- Two large elastic pockets perfect for wipes and nappies
- Two smaller elastic pockets perfect for nappies, nappy cream
- Large elastic pocket
- Slip pocket 
- Small zip pocket to secure valuables
- Two external slip pockets perfect drink bottles/bottles
 - Made from a lux lightweight nylon, with our signature leather bubble feature panels and webbing straps
SPECIFICATIONS AND SIZING
28cm high,  26cm wide, 16cm deep at base (approx)
Made from a lux lightweight nylon, with our signature leather bubble feature panels and webbing straps
Gunmetal hardware
We recommend choosing a slim change mat if you wish to save space in your bag
You can also personalise your Nappy Bag with a monogrammed luggage tag - click here to see more
SUSTAINABILITY
Our bags are made in small batches to ensure no excess product and waste to landfill.  They are made from quality leathers and thoughtfully designed to ensure you can 'buy less. buy better' and use your bag for many years across multiple iterations of your life phases.  
Mailed to you in a compostable satchel
Shipping, Returns and Warranty
Delivery 
Orders are usually dispatched within 5 business days, often less.  If you need it urgently please reach out and we will do our best to get it out quicker.
Currently all Australian orders over $49 ship for free.

For international shipping rate and more detailed shipping information please click here.
Warranty
We warranty bags and accessories for 12 months for products used under normal conditions and for the purpose intended. It doesn't apply to normal wear and tear, misuse or accidents.  Failure to follow the guidelines on our warranty would be considered misuse.
We stand behind our apparel products with a 120 day guarantee of our workmanship and materials for more details click here
For detailed information about our warranty and leather care please click here.
Returns
We know that it can be daunting shopping online, and are happy to offer a return within 30 days of receiving your bag.  We offer a full refund, return postage is at customers expense.  Please note that around holidays such as Christmas and Mothers Day we are happy to provide extended returns to allow for gifting.  Just let us know when you order that it's a gift if you will need more than 30 days. 
For specific information about returns and exchanges please click here.
It's everything and mini!
This bag is perfect for everyday use. I previously purchased a backpack and another small bag from other brands but it was too big or too small. This everything mini is just perfect to fit all the essentials for bub AND mum! It looks stunning, doesn't look like a daggy mum bag and I love how easy the straps adjust at a pull!
Excellent
Excellent for a first time mum with a five month old who doesn't want to be weighed down by tons of things. I live in a suburban area so it is easy for me to leave extra 'just in case' items in the car such as spare blankets/clothes and take this small backpack with me.
This mini size is a great reminder to pack more consciously rather than throwing everything in (and hurting my shoulders), as well as suiting shorter people. The leather/nylon finish is much more stylish than the regular options on the market, especially if (like myself) you're not into florals, bright colours, etc. I don't believe it is totally waterproof but certainly wipes off small splatters easily enough. As it is not a particularly deep bag, I am not spending ages digging through to the bottom trying to find things. I chose to add the extra pram clips and they were worth it - great for leaving my hands free.
One tiny quibble (and it is tiny) is that I'd love for the inner key clip to be on a longer strap. It's a bit hard to unclip my keys to unlock the door one-handed - a few extra inches would be enough.
This is definitely an item I wish I had bought before my child was born, and can see myself using for years to come, especially if our family grows.
Couldn't be happier!
As a mother of two not so little babes it was almost impossible to find a stylish bag that would hold two water bottles (with easy access) and a few little things. Everything out there catered for babies with nappies and changes of clothes!
This bag was exactly what I was looking for and the perfect size for outings with my 4 and 7 year old! The fact that it has convertible straps is a huge bonus too. Not to mention it is absolutely gorgeous!
The only thing that could make it better would be a little pocket on the outside for my phone - hopefully in 3.0? :D
Hi Cassy,
Thank you so much for your lovely review, I'm so very pleased that the Mini is the perfect bag for you! I also love the easy to grab drink bottle pockets!
I just wanted to let you know, as I'm not sure if you noticed, there's a slip pocket on the back you can pop your mobile phone into! It's especially great when you are using it as a crossbody.
Kindest,
Emma
Absolutely loving my new bag!
Absolutely loving my new bag. It's so cleverly designed, looks so much nicer than my old bulky baby bag and is much more compact but yet with all the space and pockets I need. Thank you!!