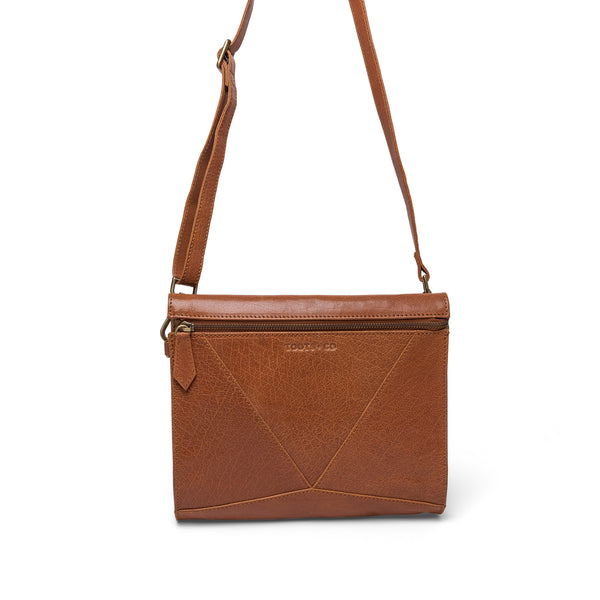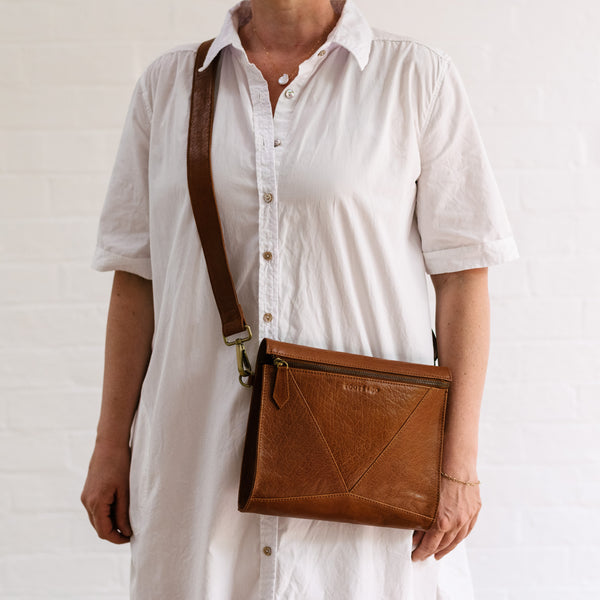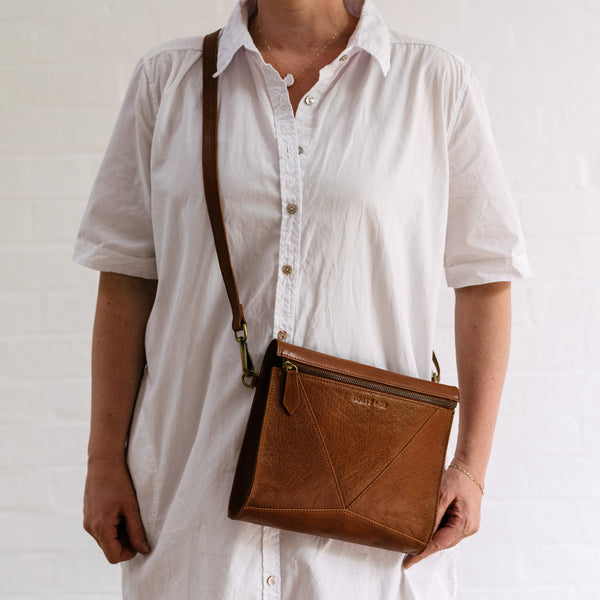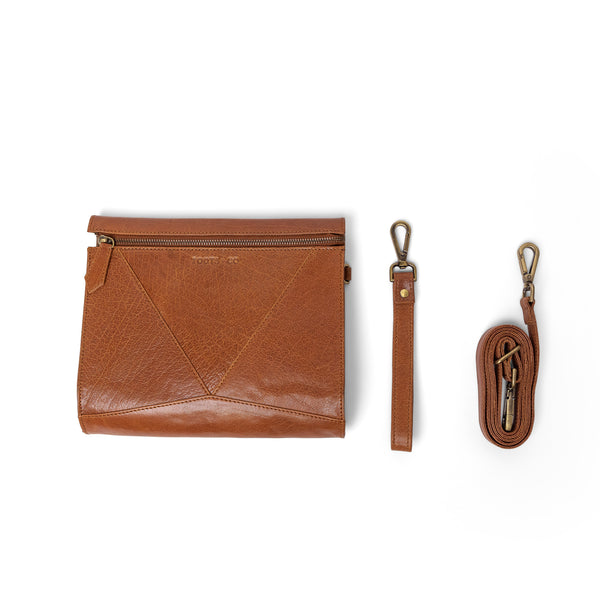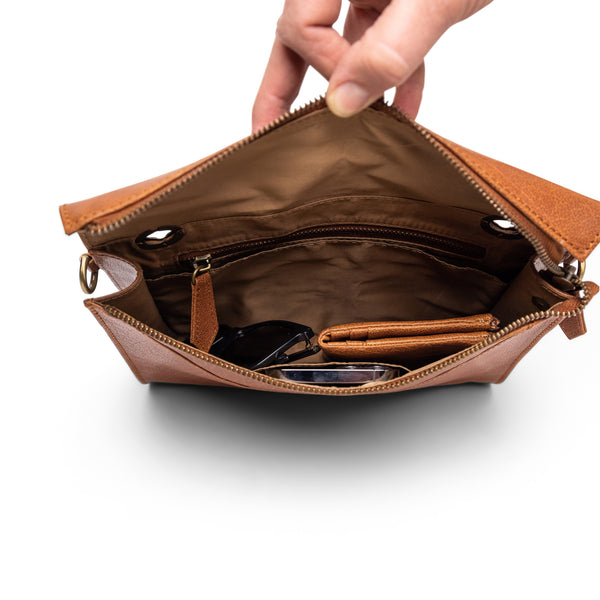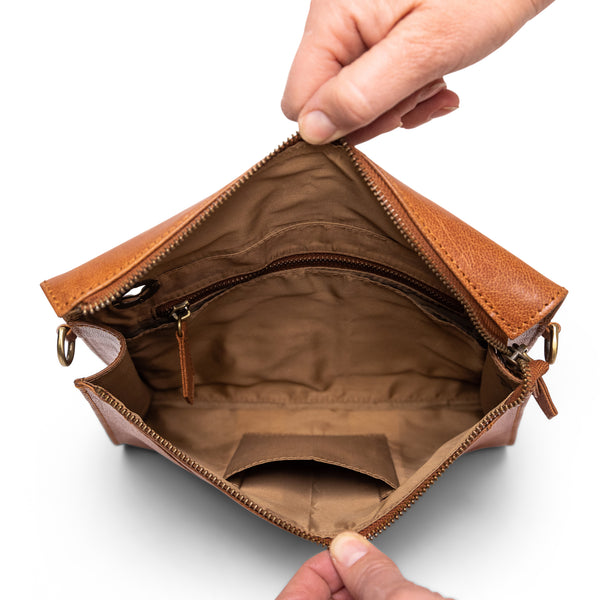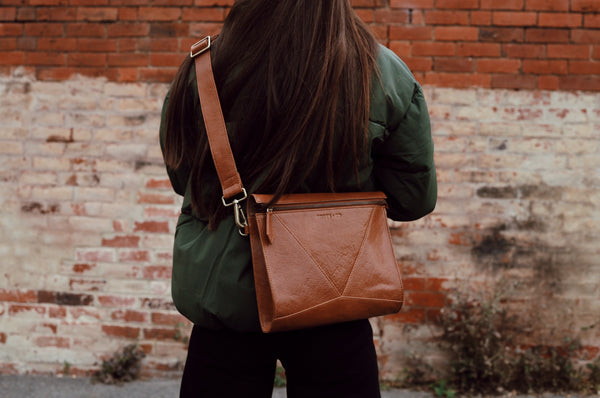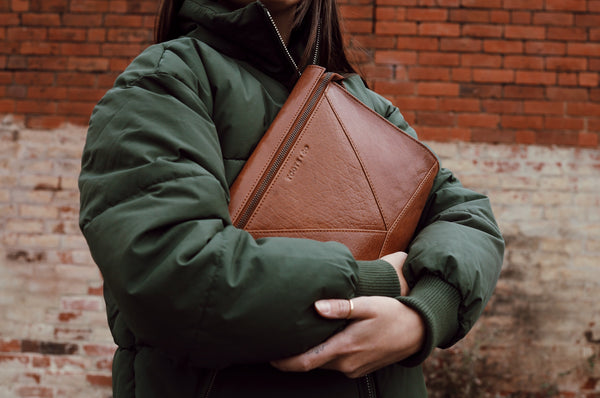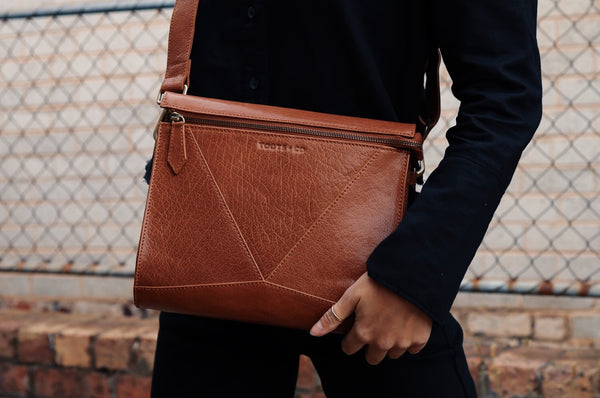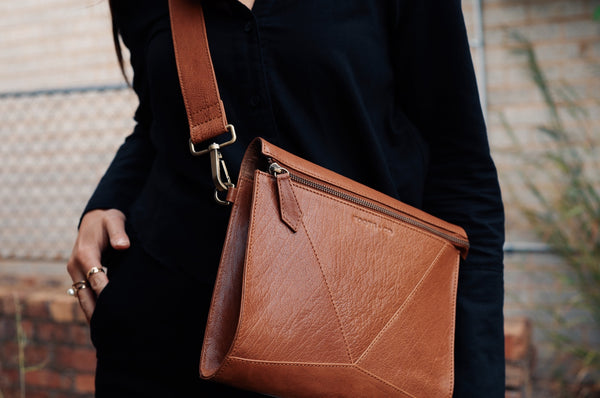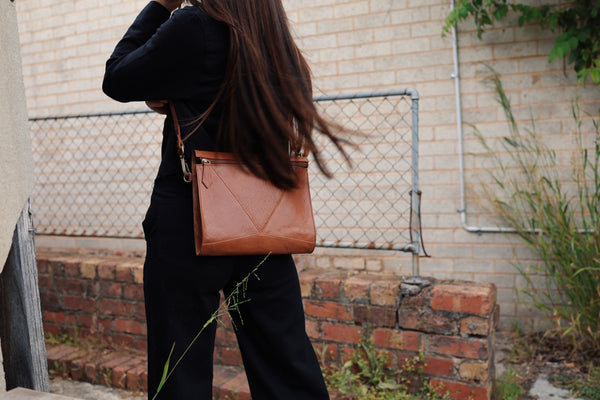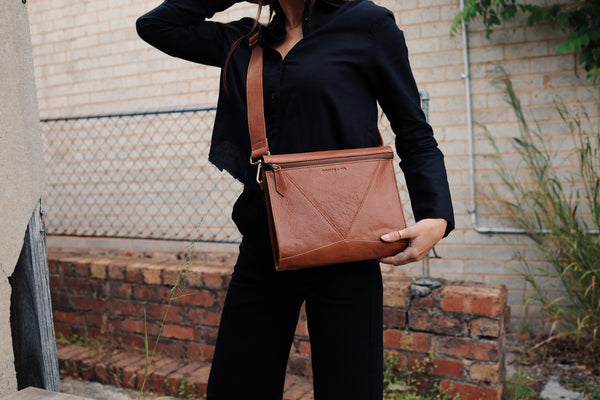 Pocket Cross Body Tan Leather
 Simplistic in nature this crossbody is for those that like to have the majority of their possessions in one section of their bag.  Designed to provide a simpler option than the Orbit for attaching to the Everything Backpack.
The layout contains only a slip pocket, zip pocket and phone pocket
What makes the Pocket Cross Body Bag Special is the fitting that allows it to quickly attach and detach from the front of the Everything Backpack.
It allows the bags to provides the ultimate in flexibility and organisation perfect for work and travel, allowing you to detach the Pocket Crossbody quickly when you want to carry just the essentials.
As a nappy bag is where it really comes into its own, it allows Mum and baby's possessions have a clear division, and Mum can remove her Pocket Crossbody at any time quickly to duck off at a moments notice, ensuring she has all her essentials.  That way when Mum gets a text invite to duck out for a cheeky wine that perfectly times with a 3 hour sleep window, she's ready to go... as soon as she changes out of her robe...
Super flexible, it can also clip to the Dash Crossbody to make the ultimate work or quick trip combo. 
Features:
- Detachable cross body strap (your choice of 2.5cm thin or 4cm thick)
- Included  wrist strap converting Orbit to a chic clutch for a night with no need to swap bags
- Magnetic flap and secure zip closure
Pockets
- Phone pocket
- Zip pocket perfect for notes and coins meaning the clutch can operate without a separate wallet leaving more room for other essentials
- Slip Pocket
STRAP OPTIONS
Available with a 2.5cm thin strap
or a 4cm wide strap
SPECIFICATIONS AND SIZING
26cm wide, 21cm high, 6cm deep
Cross body strap approx 110cm long (width 2.5cm or 4cm)
Weight 450 grams + cross body strap 50 grams 
LEATHER
Bag outer - Semi Aniline, Semi Vegetable Tanned leather proudly sourced from a Leather Working Group Gold Rated Tannery.  The leathers are buffalo along with NZ sourced bubble sheep leather.  For more information about our leathers see here.
Anilines are often considered the finest of all leathers. They are soft, supple, warm to touch and are naturally beautiful. Being Full Grain they display natural markings including pores, wrinkles and even, minor scars.  Each piece of leather, and therefore bag is unique.  However, with minimal coatings on the surface, they are also vulnerable to stains.   This is not a fault of the leather, but an inherent characteristic of a quality leather, the leather may stain, darken and develop a patinas if exposed to body oils, creams, perfumes, and some foods.  However over time any stains will soften in appearance, especially if conditioned and your bag will soften, crease and take on it's own beautiful, unique appearance. 
The tan colourway has been treated with a sealing coat to minimise stains, however please note that stains will still occur.  You may wish to recoat your bag with a waterproofing spray periodically if you would prefer to minimise any markings. 
Leather naturally stretches; however, it will not contract again. To preserve the shape of your piece, please do not overfill it.
Bag inner lining - water resistant wipe clean nylon - not removable but can be lifted up from the bag inner for spot cleaning 
Brass hardware and zips 
SUSTAINABILITY
Leather is a natural, renewable material made from animal hides that have been preserved and softened through a tanning process. This leather is semi vegetable tanned.
This leather is sourced from a Leather Working Group (LWG) audited and rated tannery. LWG aims to improve the environmental impact of the leather industry by assessing and certifying leather manufacturers. The audit covers energy use, waste, water use and chemicals, as well as traceability.  We are please to be including LWG leathers in our collections.

We have selected a durable buffalo leather for longevity, it ages well and is easy to care for. Unlike synthetic materials leather will develop a patina and just gets better with age. Leather can be recycled or upcycled, and once it reaches the end of its lifecycle it is biodegradable
Our bags are made in small batches to ensure no excess product and waste to landfill.  They are made from quality leathers and thoughtfully designed to ensure you can 'buy less, buy better' and use your bag for many years across multiple iterations of your life phases.
Shipping, Returns and Warranty
Delivery 
Orders are usually dispatched within 5 business days, often less.  If you need it urgently please reach out and we will do our best to get it out quicker.
Currently all Australian orders over $49 ship for free.

For international shipping rate and more detailed shipping information please click here.
Warranty
We warranty bags and accessories for 12 months for products used under normal conditions and for the purpose intended. It doesn't apply to normal wear and tear, misuse or accidents.  Failure to follow the guidelines on our warranty would be considered misuse.
We stand behind our apparel products with a 120 day guarantee of our workmanship and materials for more details click here
For detailed information about our warranty and leather care please click here.
Returns
We know that it can be daunting shopping online, and are happy to offer a return within 30 days of receiving your bag.  We offer a full refund, return postage is at customers expense.  Please note that around holidays such as Christmas and Mothers Day we are happy to provide extended returns to allow for gifting.  Just let us know when you order that it's a gift if you will need more than 30 days. 
For specific information about returns and exchanges please click here.
In love
This bag is so beautiful. The attention to detail is next level. Like my other toots bag, I always get compliments. So beautifully made & the perfect size to fit all my daily essentials
Tan for the win
I knew I would love the tan. I just didn't know how much.
The colour is magnificent. The leather divine. The bag is everything you'd expect from a Toots - quality, elegance and functionality.
I love the whole range, but this bag has just hit my shoulder as my favourite.
Thanks for another 10/10 product.