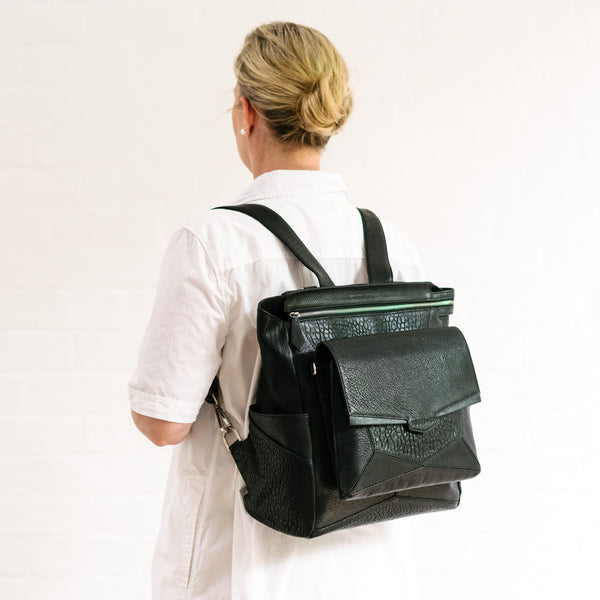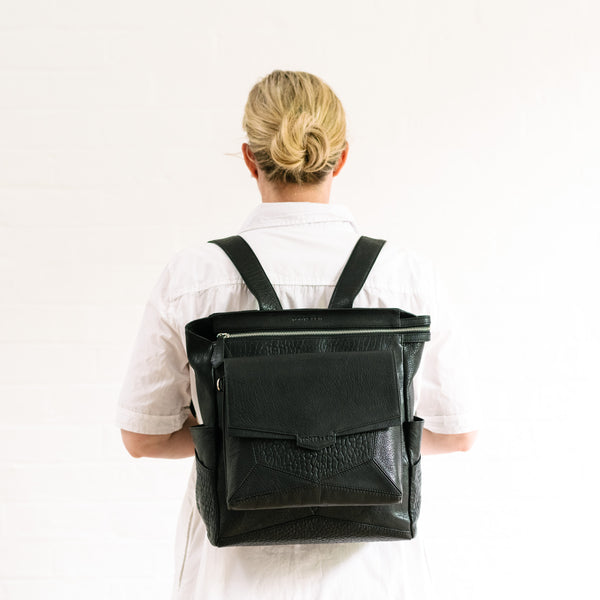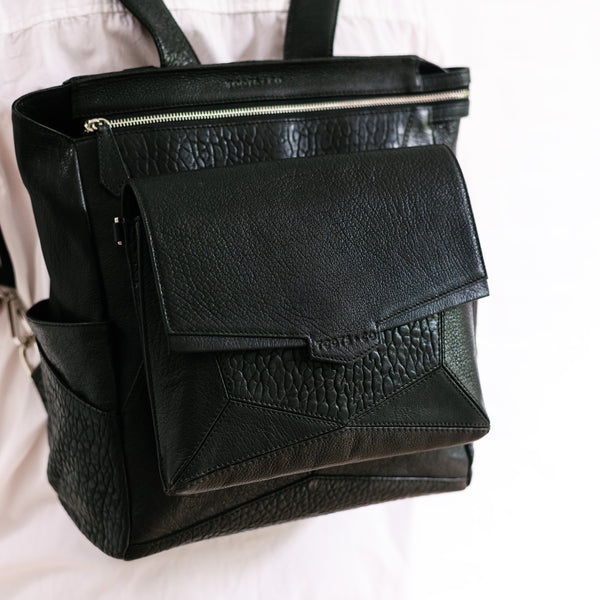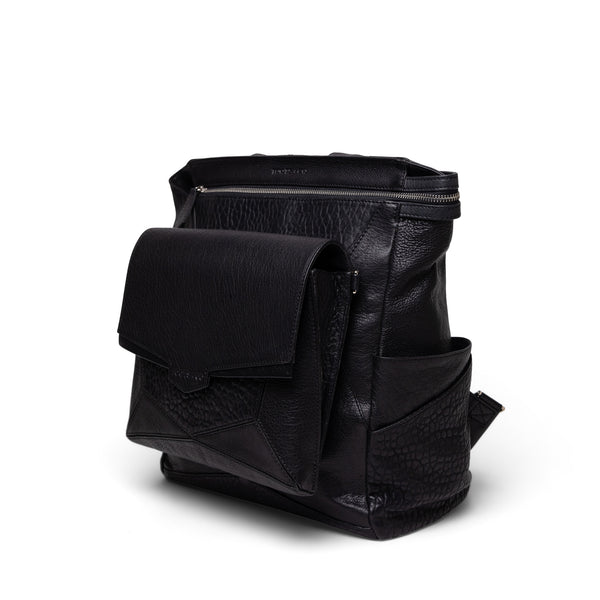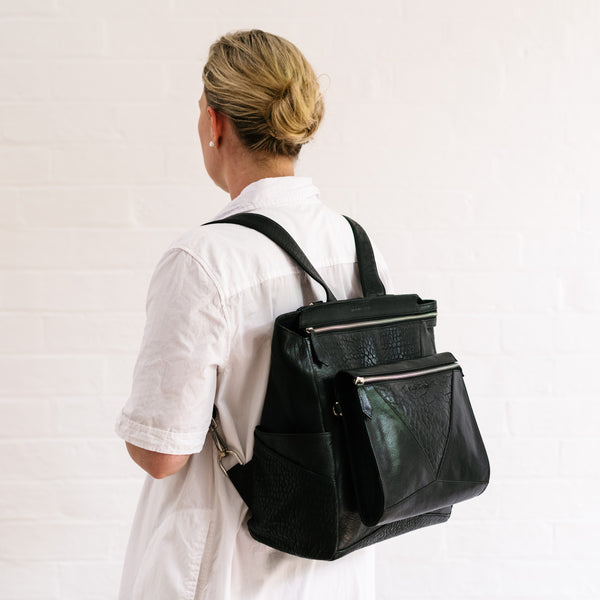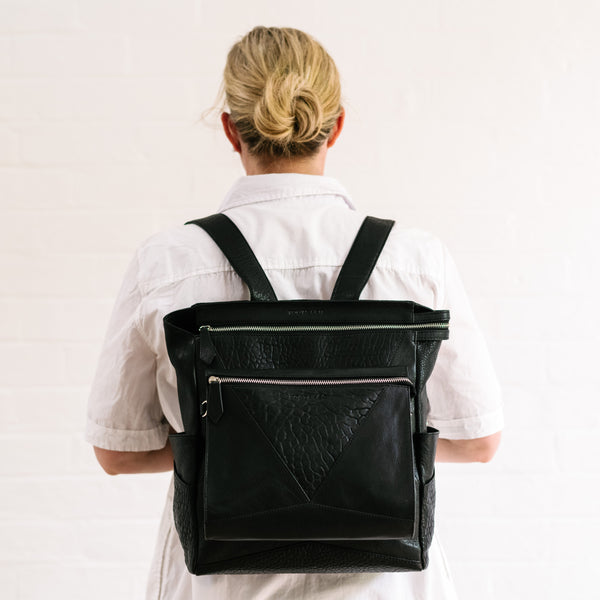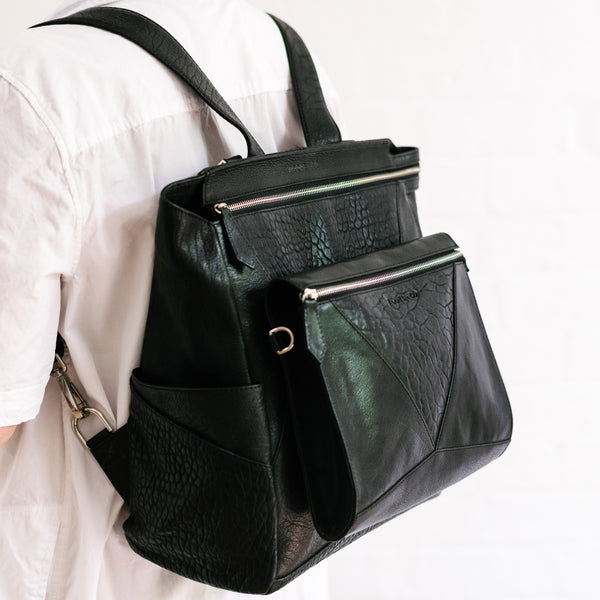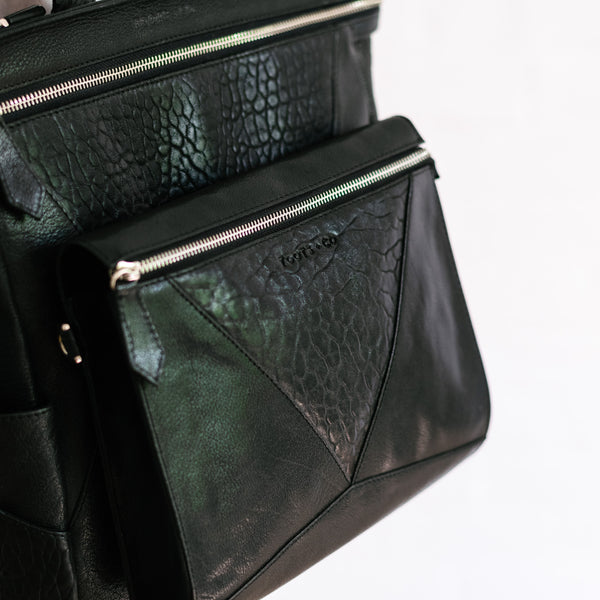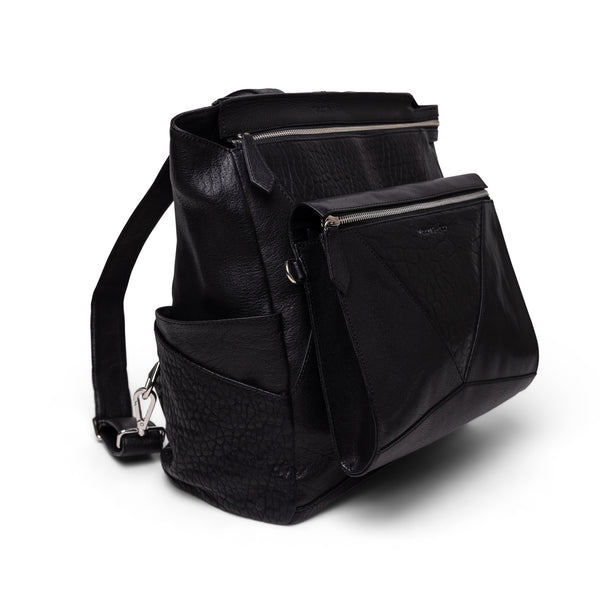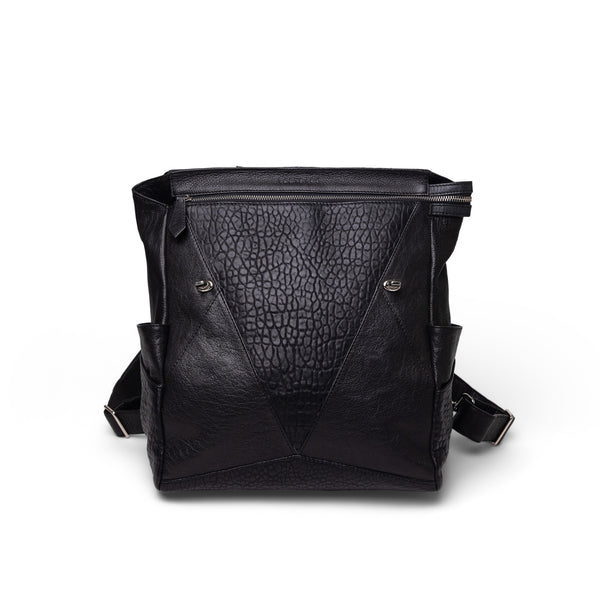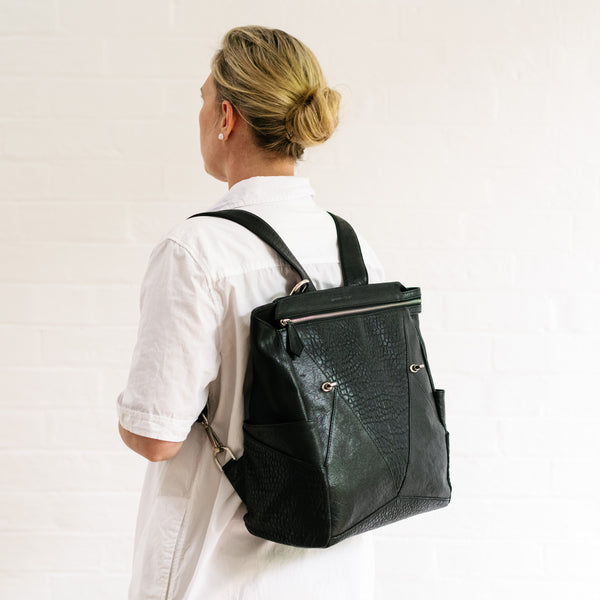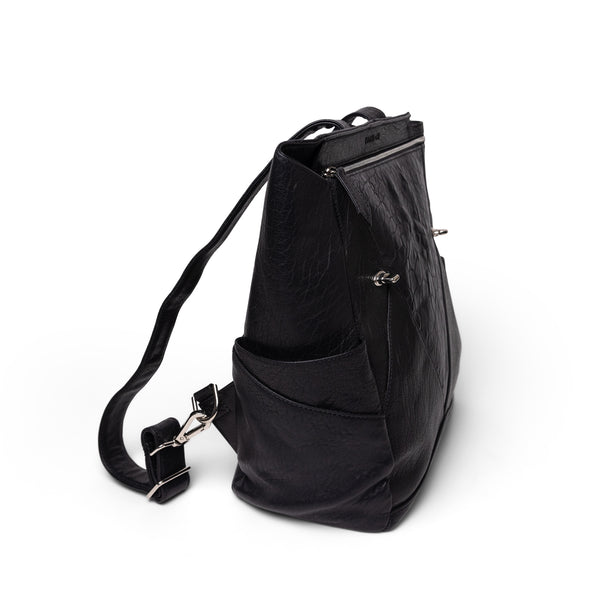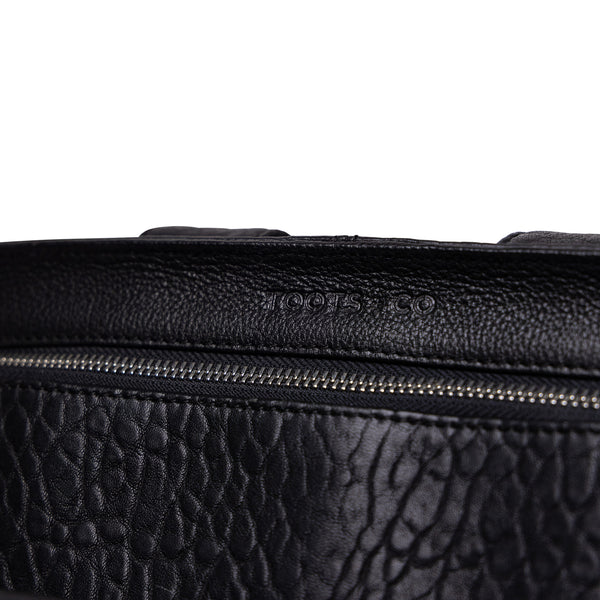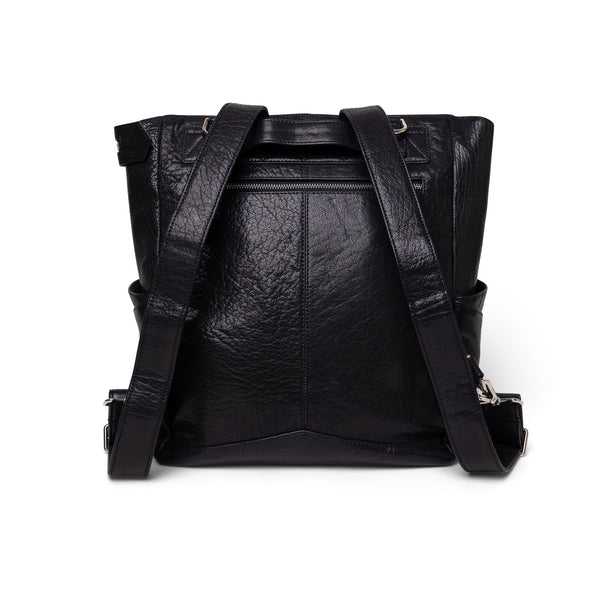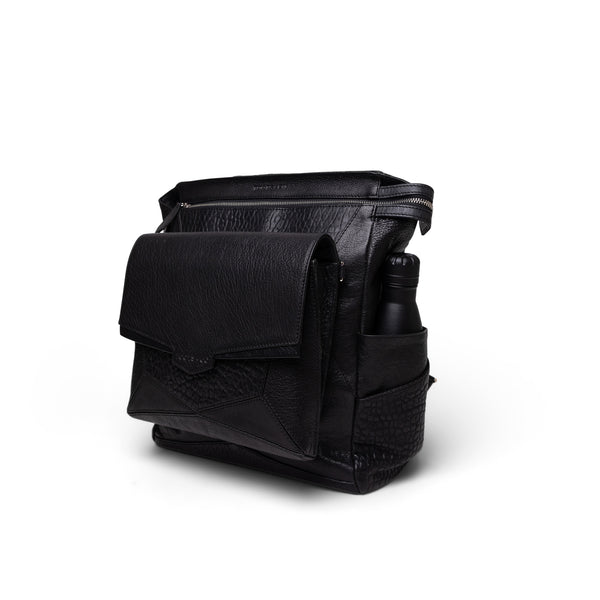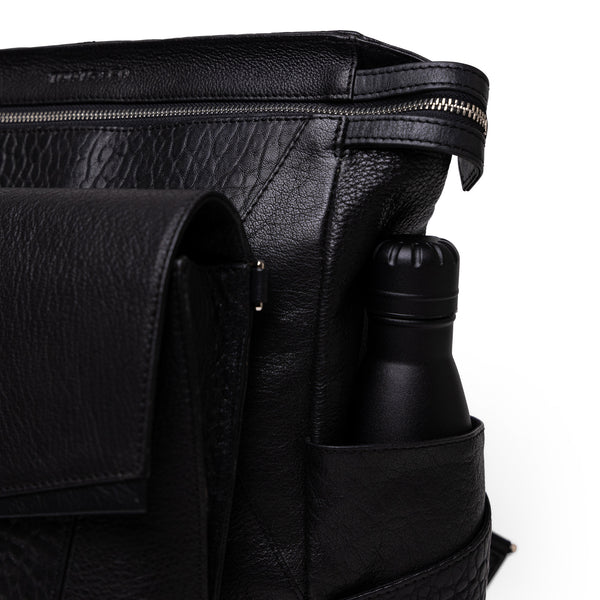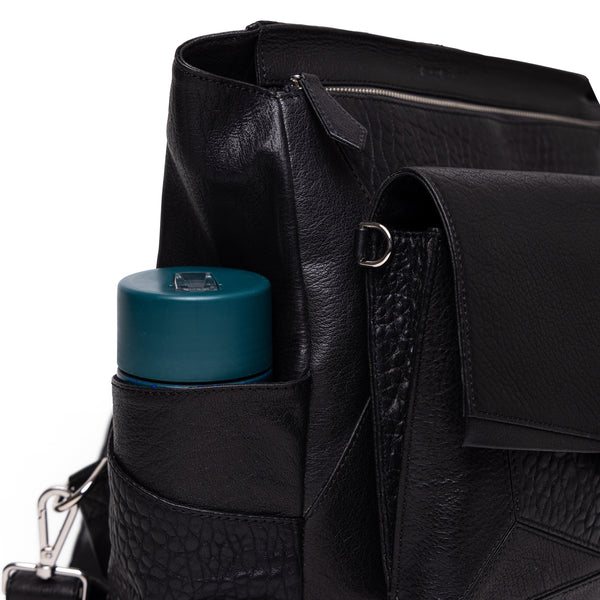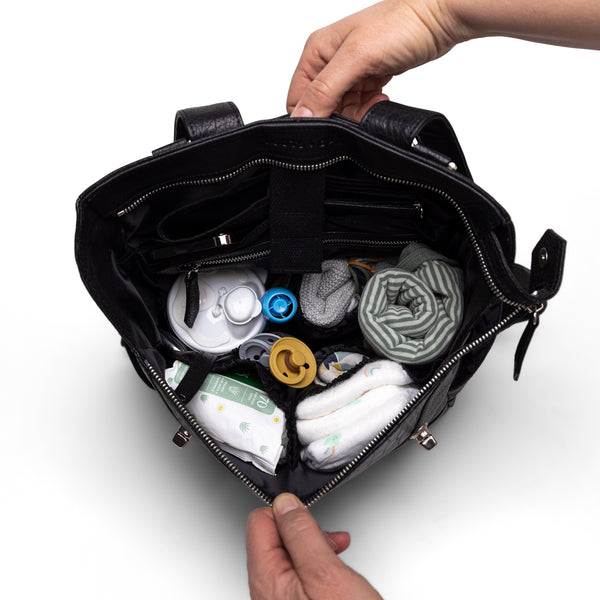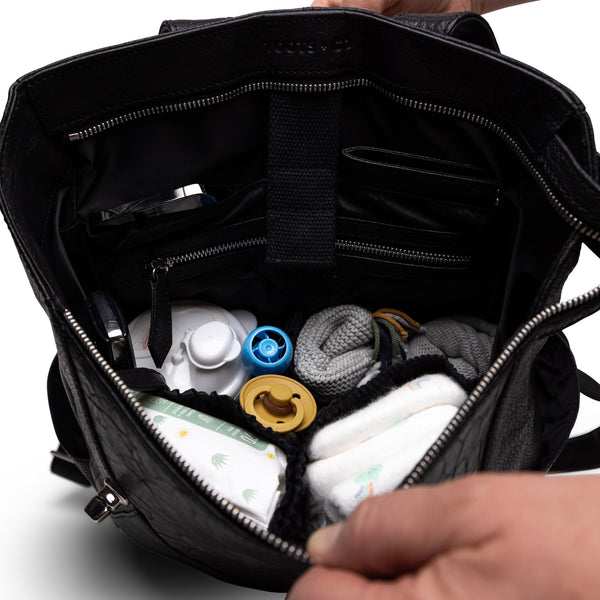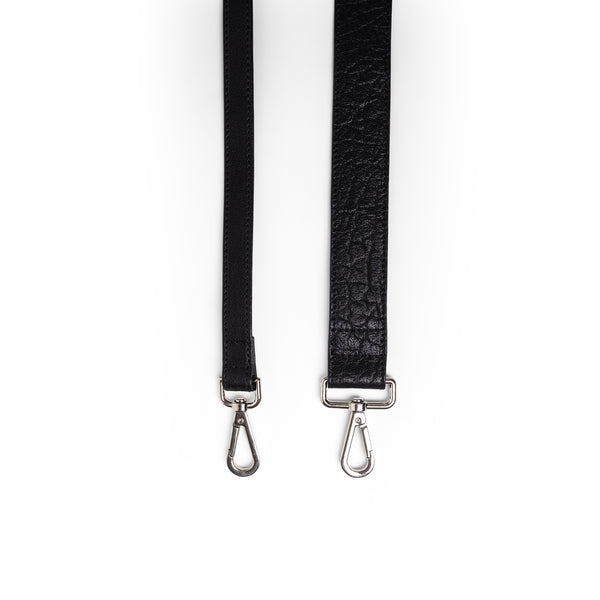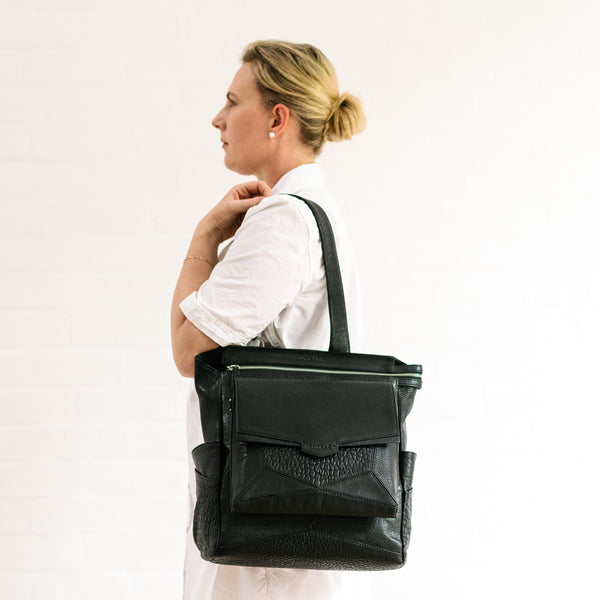 Everything Backpack Black Leather
Two bags in one, 'Attach and Detach'.  A unique concept utalising a larger bag to hold all the items you need for your child, work, gym or travel and a detachable cross body bag that attaches to the outside, seemingly as a pocket just for your essentials such as keys, phone, wallet etc, a clear division of possessions, ready to detach anytime.  
FEATURES
Wide adjustable backpack straps for a comfortable carry 

Backpack straps can be converted to a shoulder strap in seconds 

Four external pockets house two bottles/drink bottles along with flat items. Also perfect for having wipes at the ready 

Padded internal laptop pocket fits 13 inch laptops such as Macbook and Surface (up to 31.5cm high)

Two large elastic pockets for nappies and wipes. (we made sure it still fits four toddler nappies... because babies grow and nappies do get bigger! and a full pack of wipes - fits our fav brands, Toms, Gaia and Water Wipes ) 

Two medium elastic pockets for clothes and snacks

Two small elastic pockets 

Key/dummy hook

Internal zip pocket 

External zip pocket on the back

Unique to Toots + Co integrated tampon pocket 

External D rings to clip items to or utalise pram hooks

Your choice of change mat size in hygienic wipe clean polyurethane 

padded 30cm x 60cm
 regular slim 

(non- padded)

 33cm x 70cm
extra large slim (non- padded)  43cm x 70cm
ATTACH + DETACH -
OUR UNIQUE CONNECT CONCEPT
Amazing for any woman, but perfect as a bag for the modern mother, when used as a nappy bag this clear division between mum and bubs things, means less time fishing around, separating and double checking when transitioning in and out of mum mode.
The Cross Body quickly attaches and detaches from the front of the backpack. Mum and baby's possessions have a clear division, and Mum can remove her Crossbody at any time quickly to duck off at a moments notice, ensuring she has all her essentials. It's also perfect for travelling, or any use where you want to be able to duck off with just your essentials without having to fish around in a large bag to locate them or carry two separate bags.  Women without children also love the convenience of having a clear division between their work and personal items and being able to separate the two anytime you like!  In fact... we think it would be the ultimate commuter - pack everything you need for work, arrive, stash the backpack under your desk and pop to meetings and lunch with just the Crossbody!
CROSSBODY OPTIONS
For the first time we have released a second crossbody option, allowing you to chose the bag that suits the way you use your bags
The Orbit Crossbody is feature rich, is has an array of pockets, loops for pen and lip gloss, as well as a divider -it's an organised woman's dream bag... there's a place for everything.  
The Pocket Crossbody is the same size, however it's more simplistic in its layout, with only a phone pocket, slip pocket and zip pocket it's the perfect for those that are happy to have everything in the one section of their bag
Both options come with a crossbody strap (choice of 2.5cm wide and 4cm wide) and wrist strap
See more about each bag here 
DESIGN
As our founder developed Toots + Co, designing, sampling and product testing -  her son grew from a baby to a toddler and it quickly became evident that backpacks are everything. And so the Everything Backpack was born!
Smaller than our Pinnacle Tote, the Everything Solo Backpack is perfect Nappy Bag for the Mum that wants to have two hands free to wrangle everything that motherhood throws at her, all while looking chic!   It's  perfect for a drink bottle and baby bottle (in side pockets), nappies, wipes, change of clothes, dummies, snacks, hat sunscreen and a couple of matchbox cars... you can even slip a colouring book or ipad in internal the slip pocket.  It's also great for travel... there is an external zip pocket on the back that sits securely behind your back with a slip pocket inside the perfect size for passports
and boarding passes, plus all your travel paperwork
LEATHER
Bag outer - Semi Aniline, Semi Vegetable Tanned leather proudly sourced from a Leather Working Group Gold Rated Tannery.  The leathers are buffalo along with NZ sourced bubble sheep leather.  For more information about our leathers see here.
Anilines are often considered the finest of all leathers. They are soft, supple, warm to touch and are naturally beautiful. Being Full Grain they display natural markings including pores, wrinkles and even, minor scars.  Each piece of leather, and therefore bag is unique.  However, with minimal coatings on the surface, they are also vulnerable to stains.   This is not a fault of the leather, but an inherent characteristic of a quality leather, the leather may stain, darken and develop a patinas if exposed to body oils, creams, perfumes, and some foods.  It is anticipated that minimal stains will be visible on the black colourway
Leather naturally stretches; however, it will not contract again. To preserve the shape of your piece, please do not overfill it.
Bag inner lining - water resistant wipe clean nylon - not removable but can be lifted up from the bag inner for spot cleaning 
Brass hardware and zips 
SPECIFICATIONS AND SIZING
Everything Backpack:
Size 35cm high,  29cm wide, 16cm deep at base (approx)
Weight 1500grams
Orbit Crossbody:
26cm wide, 21cm high, 6cm deep
Included Cross body strap approx 110cm long (choice of 2.5cm wide and 4cm wide)
Weight 600 grams + cross body strap 50 grams
Pocket Crossbody:
26cm wide, 21cm high, 6cm deep
Included Cross body strap approx 110cm long ( choice of 2.5cm wide and 4cm wide)
Weight 450 grams + cross body strap 50 grams
SUSTAINABILITY
Leather is a natural, renewable material made from animal hides that have been preserved and softened through a tanning process. This leather is semi vegetable tanned.
This leather is sourced from a Leather Working Group (LWG) audited and rated tannery. LWG aims to improve the environmental impact of the leather industry by assessing and certifying leather manufacturers. The audit covers energy use, waste, water use and chemicals, as well as traceability.  We are please to be including LWG leathers in our collections.

We have selected a durable buffalo leather for longevity, it ages well and is easy to care for. Unlike synthetic materials leather will develop a patina and just gets better with age. Leather can be recycled or upcycled, and once it reaches the end of its lifecycle it is biodegradable
Our bags are made in small batches to ensure no excess product and waste to landfill.  They are made from quality leathers and thoughtfully designed to ensure you can 'buy less. buy better' and use your bag for many years across multiple iterations of your life phases.
Shipping, Returns and Warranty
Delivery 
Orders are usually dispatched within 5 business days, often less.  If you need it urgently please reach out and we will do our best to get it out quicker.
Currently all Australian orders over $49 ship for free.

For international shipping rate and more detailed shipping information please click here.
Warranty
We warranty bags and accessories for 12 months for products used under normal conditions and for the purpose intended. It doesn't apply to normal wear and tear, misuse or accidents.  Failure to follow the guidelines on our warranty would be considered misuse.
We stand behind our apparel products with a 120 day guarantee of our workmanship and materials for more details click here
For detailed information about our warranty and leather care please click here.
Returns
We know that it can be daunting shopping online, and are happy to offer a return within 30 days of receiving your bag.  We offer a full refund, return postage is at customers expense.  Please note that around holidays such as Christmas and Mothers Day we are happy to provide extended returns to allow for gifting.  Just let us know when you order that it's a gift if you will need more than 30 days. 
For specific information about returns and exchanges please click here.
Great design
I got the Everything leather bag. The leather is beautiful and it's a super clever design with the pockets and the option to clip on the smaller purse, I love it. I also got the cross body orbit - the way the bag is constructed maybe the leather wasn't pulled tight enough but it buckles around the zip.
The best
I purchased the Everything Backpack and Orbit Crossbody in black last year while I was pregnant. I had done a lot of research and convinced myself that this was the best option for me and worth the cost (spoiler: it is). I have been using the bag everyday for 8 months now and wanted to make sure I had used it for a while before leaving a review.
Firstly, the backpack: I love all the pockets - I can grab everything with one hand during nappy changes (nappy, wipes, sanitiser, spare clothes) - so important when your little one begins to roll and you are trying to hold them down with one hand and reach into the bag with the other. I love the backpack style and option for shoulder bag. The backpack is so handy when I need both hands to lift my child, especially in and out the car. The leather is high quality and looks beautiful. My bag still looks brand new despite being thrown in/out of the pram/car everyday and being placed on the floor of public change rooms. The side pockets are handy for bottles, cutlery, toys, socks - anything you need to grab quickly (easily fits my Yeti on one side and baby straw bottle on the other). Fits everything you could possibly need (and more). It has grown with us from newborn days to now bringing food and toys everywhere we go.
Orbit crossbody - I use this bag every single day. I can never go back to another bag without a compartment for everything (something I didn't realise would be so useful before this bag). Similar to the backpack, I can grab whatever I need one-handed (lipstick, phone, wallet, glasses, headphones). I often use the pram hooks and hook this bag onto my pram for easy access to these things when out and about. Very comfortable to wear with thick crossbody strap. My Mum loved my Orbit bag so much she purchased one for herself and also uses it everyday. I love concept of the Orbit attaching to the Everything as I don't have to pack/unpack different bags all the time - this definitely helps me to feel organised (important when sleep deprived!).
I can see the Orbit/Everything bag growing with my family and lasting a lifetime. Love it.
Perfect! Not just a baby bag!
Absolutely loving my new back pack! I was looking around for something to travel overseas with, nothing else really jumped out at me. Then my friend came over for a visit with her baby, and I saw her bag. I decided I loved it then.
It is a big purchase for me, but o know that I'll have it forever!
Having the purse that clips on and off is amazing. I don't have to pack a separate purse. We all know that being able to pack less when traveling helps so much.
It doesn't have to be used as a baby bag, it's my hand luggage, all of the pockets are so very useful. I really do love it!
100% worth it!
I recently bought the everything backpack with orbit in black leather. It was a big purchase for me and I did a lot of research and am so so so happy with it. The leather is soft, supple and I can tell it will age beautifully in comparison to the other leather baby bags I was considering. Having the ability to take the orbit off and keep my wallet is such a lifesaver too and was what sold me on the bag - I can't tell you the number of times I left my wallet at home going out and forgetting to transfer it from my baby bag to handbag. Emma was a great help in answering my questions. If you're considering it, it is definitely worth the investment. It makes you feel so much more put together going out with a beautiful bag!
Best baby bag on the market
If you are reading the reviews you are considering buying this baby bag and I can tell you definitely do it. The quality is amazing. I always get compliments when I take this bad boy out on the town. It's roomy but not heavy and the leather is top quality. I can see this being used as my kids grow and their needs change. I love that's it's all leather and a quality piece you can keep for a lifetime. The detachable front is a life saver for times when you need something smaller to carry just the essential while out and about. The customer service is amazing so take the leap and buy it, it is so worth it.